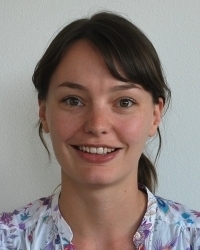 Johanna Schild
Postdoc
Name

Dr. J.E.M. Schild

Telephone

E-mail
Johanna is a landscape ecologist interested in exploring opportunities for sustainable management of our environment. She is currently exploring the impact of sustainable farming on soil quality.
More information about Johanna Schild
Professional experience
Johanna started her research career during an academic internship at the Global Mechanism of the UNCCD, where she analyzed the economic value of drylands using the ecosystem services concept. Since then, she continued researching the impact of water quality on ecosystem services at VU University Amsterdam.

Johanna wrote her PhD thesis about the valuation of water-related ecosystem services at the CML. In her thesis, she investigated whether such monetary valuation captures environmental quality. As part of her PhD, she participated in the Southern African Young Scientists Summer Program (SA-YSSP) in South Africa.

Before rejoining the CML as a postdoc in 2021, Johanna worked at the Soil Physics and Land Management Group of Wageningen University. Her research focused on the impact of sustainable land management on ecosystem services delivery in different regions of the world, including Africa, the Middle East and Europe. She also co-led a research line on Biodiverse Agroecosystems of the soil cluster of Wageningen University.

Johanna holds a Master degree in Forest and Nature Conservation from Wageningen University and a Bachelor degree in Biology from Utrecht University, both specialized in Ecology.
Research topic
Johanna's research focusses on the impact of sustainable farming practices on soil quality in the Netherlands. This research is part of the NWA (Dutch Science Agenda) project 'Transition to a sustainable food system'.

Johanna is based at the Environmental Biology Department of the CML.
Postdoc
Science
Centrum voor Milieuwetenschappen Leiden
CML/Environmental Biology
Work address
Van Steenis
Einsteinweg 2
2333 CC Leiden
Room number B2.17
Contact
Schild J.E.M. (11 December 2019), The monetary valuation of water-related ecosystem services (PhD thesis. Institute of Environmental Science (CML), Faculty of Science, Leiden University). Supervisor(s) and Co-supervisor(s): Bodegom, P.M. van, Vermaat, J.E.
Schild J.E.M., Vermaat J.E., Groot R.S. de, Quatrini S. & Bodegom P.M. van (2018), A global meta-analysis on the monetary valuation of dryland ecosystem services: The role of socio-economic, environmental and methodological indicators, Ecosystem Services 32(A): 78-89.
No relevant ancillary activities