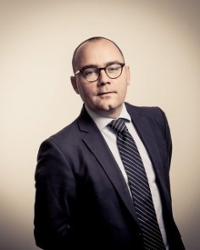 Joeri Vananroye
Guest Staff Member
Name

Prof.dr. J.M.A. Vananroye

Telephone

E-mail
Prof. Joeri Vananroye has been a member of the Institute of Private Law since 2018 in the capacity of guest professor/holder of the TPR Exchange Chair.
More information about Joeri Vananroye
Professor Joeri Vananroye teaches commercial law, economic analysis of law and corporate law at KU Leuven (Belgium). He coordinates the option business strategy in the joint master in Economics, Business and Law. He founded the Corporate Finance Lab in 2016. He advised the Belgian Minister of Justice on the 2018 overhaul of Belgian commercial law (resulting in the abolition of the Code de Commerce of 1807). In 2017-18 he is a visiting professor at Leiden Law School in the framework of the TPR Chair.
Joeri Vananroye is a member of the board of editors of the Tijdschrift voor Rechtspersoon en Vennootschapsrecht and is a member of the Belgian Centre for Corporate Law.
Previously, he was a fellow of the Belgian American Educational Foundation, a fellow of the Fund for Scientific Research (Flanders) and a researcher at the Jan Ronse Institute for Corporate Law. He has been a recipient of the TPR prize, the APR prize and the Albert Fettweis prize.
He is also an attorney at the Brussels Bar (Quinz), specializing in the areas of commerical arbitration and litigation, corporate finance, and insolvency law. He was the key note speaker at the formal opening of the judicial year in Brussels (Cour de cassation, 2012) and Leuven (2016).
Title of dissertation / oration / key publications
Vananroye, J. (2011). Onverdeelde boedel en rechtspersoon als technieken van vermogensafscheiding en vermogensovergang. (Doctoral Thesis, KU Leuven)
Vananroye, J. (2015),

Organisatierecht: werfbezoek aan een onvoltooide piramide

(Inaugural oration, KU Leuven)

Vananroye, J. (2018), "Delven in de rijke groeve: aansprakelijkheid en insolventieprocedures", in Vraagpunten op de grens van insolventierecht, goederenrecht en verbintenissenrecht. Opstellen aangeboden aan Professor Eric Dirix, 2018.
Vananroye, J. (2013), "Father knows best: zijn dwingende regels omtrent het aantal leden in een vennootschap of een huwelijk verantwoord?", TRV 2013, 54-74
Vananroye, J. (2011), "Strictly personal, not business: contractuele schade in de vennootschapssfeer. In: Liber amicorum Luc Weyts, 2011, Brussel, Larcier, 617-634
Vananroye, J. (2004), "Toerekening aan rechtspersonen en andere organisaties", Liber amicorum Tijdschrift voor privaatrecht en Marcel Storme, 2004. 753-793
Languages
Dutch, English and French .
Guest Staff Member
Faculteit Rechtsgeleerdheid
Instituut voor Privaatrecht
Civiel recht
Of counsel
Professor Handelsrecht, economisch recht en economische analyse van het recht