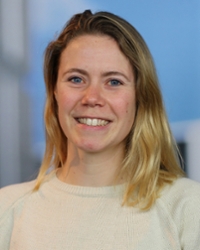 Inge van der Knaap
PhD candidate
Name

Dr. I.E.J. van der Knaap

Telephone

E-mail

ORCID iD
My interests are the effects of anthropogenic activities on marine fish species. Specifically, my research looks into the effects of man-made sound, from seismic surveys and the construction of offshore structure, on the movement and behaviour of Atlantic cod.
More information about Inge van der Knaap
Brief biography
2017-present: PhD thesis on the effects of anthropogenic sound on movement and behaviour of Atlantic cod (Gadus morhua) in the North Sea. Promotors: Asst. Prof. Hans Slabbekoorn. Co-promotors: Dr. Jan Reubens, Prof. Tom Moens & Dr. Erwin Winter
2016-2017: Fisheries scientist at the Pelagic Freezer trawler Association (PFA)
2013-2015: MSc Erasmus Mundus Master on Marine Biodiversity and Conservation (EMBC+) at Algarve University and Galway-Mayo Institute of Technology.
2008-2012: BSc Biology at Nijmegen University
Research
In the marine environment where visibility is low, sound is the most important medium for communication. Many marine species (if not all) relay on sound for their daily activities like foraging, orientation and predator-prey interactions. Man-made (anthropogenic) sound could potentially disturb these activities as the frequency range, in which most anthropogenic sounds fall, overlaps with the earing range of marine fish species (100-600 Hz). However, what the effects are on fish behaviour are unclear. In my research I focus on the effects of sound on the behaviour and movement of marine fish in the North Sea area.
The two sound sources I'm interested in in my research are; seismic surveys and pile driving.
Seismic surveys are acoustic explorations of the seabed in search for offshore resources like oil and gas or in preparation for construction of, for example, wind farms. These surveys are performed by seismic vessels equipped with air gun arrays that repeatedly emit a broadband but low frequency acoustic pulse towards the sea bottom. Due to the high power, required to penetrate the sea bottom, these pulses also propagate horizontally and thus create a potential threat to marine life.

Pile diving takes place when foundations are made for offshore structures like the base of a wind turbine. A ship equipped with a pile driving hammer foresee foundations into the seabed and by doing so produced a low frequency sound with high intensity. With the plans to expend marine wind parks within the North Sea, pile driving has become a common phenomenon.
During my PhD I focus on the effects these sound have on a common marine fish species: Atlantic cod (Gadus morhua). the method we use to frack these animals in their natural habitat is called acoustic telemetry. Acoustic telemetry used an acoustic tag that can be attached to an animal and transmits a signal at High frequency (69kHz) which can be picked up by listening stations (hydrophones) that are placed in the area of interest. With this technique we can gather information on fine scale movement, depth usage and activity of wild cod. We will use this information to derive the effects sound has on daily panthers and plan to use this to inform energy budget models. With these models it is possible to go from an individual level to a population level consequence of acoustic disturbance.
Teaching
Are you interested in the effects of sound on marine fish and would like to do a BSc or MSc project on this topic? Don't hesitate to contact me. (see under the tab contact).
Publications
Reubens, J.; Verhelst, P.; van der Knaap, I; Deneudt, K.; Moens, T.; Hernandez, F. (2018). Environmental factors influence the detection probability in acoustic telemetry in a marine environment: results from a new setup. Hydrobiologia Online: 1–14. https://hdl.handle.net/10.1007/s10750-017-3478-7
Reubens, J.; Verhelst, P.; van der Knaap, I; Wydooghe, B.; Milotic, T.; Deneudt, K.; Hernandez, F.; Pauwels, I. (2019). The need for aquatic tracking networks: the permanent Belgian Acoustic Receiver Network. Animal Biotelemetry 7(2): 2. https://hdl.handle.net/10.1186/s40317-019-0164-8
PhD candidate
Science
Instituut Biologie Leiden
IBL Animal Sciences
Work address
Sylvius
Sylviusweg 72
2333 BE Leiden
Contact
No relevant ancillary activities