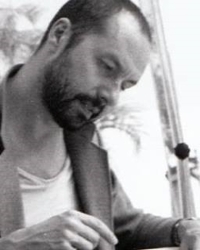 Hugo DeBlock
University Lecturer
Name

Dr. H.E. DeBlock

Telephone

E-mail
Hugo DeBlock holds an MA in Art History (UGent 1999), an advanced MA in the Arts of Africa, Oceania, and the Americas (U of East Anglia 2006), and a Ph.D. in Anthropology (U of Melbourne 2013).
In addition, he was visiting student in anthropology through the University of California at Berkeley Extension Program at UC Berkeley (1999-2000) and, on Fulbright and a range of other grants, at the University of Chicago (2001-2002).
He has carried out extensive fieldwork in Vanuatu, in the Southwest Pacific, in 2006, 2008 and 2009-2011. In 2013-14 he was a Postdoctoral Fellow in Anthropology at the Value and Equivalence Graduiertenkolleg, Goethe University, Frankfurt am Main, on a project entitled "The Future of Indigenous Museums in the Pacific". His most recent research focusses on visual anthropology, representation, and film in Vanuatu, Tanzania, and Zanzibar, and he was assistant coordinator for the Vlir Uos Project entitled 'Governance, Gender, Entrepreneurship, and ICT in Tanzania' in cooperation with Mzumbe University, Morogoro. Currently, he is finalizing a documentary film on Vanuatu arts and culture in cooperation with documentary filmmakers An Van Dienderen and Christina Stuhlberger. His areas of research include material culture and art from Africa and the Pacific, anthropology of tourism, museum anthropology, colonialism, postcolonialism, decolonisation and restitution, with main research foci on Vanuatu, Tanzania, and DRC, as well as contemporary art in the diaspora, grassroots activism and artivism.
Most recent publications
DeBlock, Hugo. "Provenance Research, Decolonization, and Restitution : Towards Action." TRAJECTORIA, vol. 2, 2021.

DeBlock, Hugo, and An Van. Dienderen. "A Messy Carousel : Appropriation, Ethno-Preneurship and Audiovisual Repatriation." TRAJECTORIA, vol. 2, 2021.

DeBlock, Hugo. "Negerplastik." DE WITTE RAAF, edited by Steven Jacobs, vol. 35, no. 208, 2020, pp. 9–10.
University Lecturer
Faculty of Humanities
Centre for the Arts in Society
KG Moderne beeldende kunst
Work address
Arsenaal
Arsenaalstraat 1
2311 CT Leiden
Room number A1.34
Contact
No relevant ancillary activities