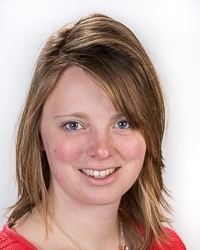 Hilde Roskam-Dam
PhD candidate
Name

Mr. H.D. Roskam-Dam

Telephone

E-mail
Hilde Roskam has been a staff member of the Grotius Centre since 1 April 2012, first as student-assistant, later as teacher, and currently as PhD-candidate.
More information about Hilde Roskam-Dam
Hilde Roskam studied Political Science (BA) and Law at Leiden University. During her Master in Public International Law - also at Leiden University - she studied for a half a year at the Graduate Institute in Geneva, where she specialised in International Law Methods and Sovereignty, Intervention and Humanitarianism. Alongside her Master she completed the Master Talent Programme at Leiden University, a programme aimed at developing research techniques.
Hilde has been working at the University of Leiden since April 2012, first as a student assistant to Prof. Nico Schrijver, since September 2013 as a member of the research and teaching staff, and since February 2015 as PhD candidate.
Research
Topic: Targeted Sanctions imposed by the Security Council against individuals violating Human Rights Law or International Humanitarian Law
Summary: Since 2004, the Security Council started to impose so-called crime-based targeted sanctions against individuals. These sanctions constitute assets freezes and travel bans imposed against individuals who are deemed responsible for violations of international humanitarian law or human rights law. Eight cases are analyzed in which these sanctions are imposed (Côte d'Ivoire, Sudan, DRC, CAR, South Sudan, Libya, Yemen and Somalia). Based on these case studies, the following issues: the legal basis for imposing these sanctions; the information on which the imposition is based as well as procedural guarantees; the rationale behind these sanctions and the specific compliance sought from the individual; the way in which travel bans and asset freezes can contribute to the achievement of the goals pursued by the Council; the relationship between the sanctions imposed and international criminal procedures instituted against the same individuals; and the role these sanctions have in the broader context of measures imposed by the Security Council to address threats to the international peace.
PhD candidate
Faculteit Rechtsgeleerdheid
Instituut voor Publiekrecht
Grotius Centre for Intern Legal Studies
No relevant ancillary activities