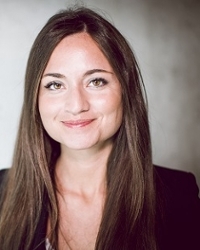 Ginevra Le Moli
Assistant Professor
Name

Dr. G. Le Moli

Telephone

E-mail

ORCID iD
Ginevra Le Moli is Assistant Professor of Public International Law at the Institute of Public Law and the Grotius Centre for International Legal Studies at Leiden University. Starting in September 2020, she will be based at the University of Geneva and the University of Cambridge conducting a research project supported by the Swiss National Science Foundation (SNSF) on "Who owns natural resources?".
Curriculum Vitae
Ginevra Le Moli holds a Ph.D. in Public International Law (summa cum laude) from the Graduate Institute of International Law and Development Studies (IHEID), Geneva. She also holds an LL.B. and a Masters in Law (cum laude) from the University of Roma Tre, an LL.M. in International Law from the Graduate Institute (cum laude) and a Diploma in International Law from the LSE (UK). Lastly, she holds an Advanced Certificate on the prevention of pandemics from the Harvard T.H. Chan School of Public Health/Harvard Medical School (Cambridge, MA).
She was previously a Visiting Fellow at the Lauterpacht Centre for International Law, Cambridge (01-09/2019) and a Legal Consultant with the UN OHCHR (2015-2018). Between 2016 and 2018, she took part in UN investigation teams for Syria and Yemen, with several field missions in Damascus, Idlib, Aleppo, Homs (Syria) and Sanaʽa and Taiz (Yemen). Previously, she was a Legal Adviser for NGOs (2013-2014) and a Junior Associate in the Litigation and Arbitration Department of the law firm Bonelli Erede, in Rome (2011-2012).
Research Areas and Interests
Ginevra is a general international lawyer with research interests both in foundational areas, including human rights, environmental law, criminal law and international responsibility, as well as in recent developments, such as the governance of global health security and artificial intelligence.
Her book Human Dignity in International Law was published in 2021 by Cambridge University Press, in the series ASIL Studies in International Legal Theory. Her work has appeared in some of the leading generalist and specialist publications in the field, including AJIL, ChineseJIL, ICLQ, LJIL or the JICJ, and in high impact interdisciplinary journals, such The Lancet.
At present, she is working on the security aspects of global pandemics in a series of chapters and articles, and as co-editor of the first Oxford Commentary of the WHO International Health Regulations, together with G.-L. Burci and J.E. Viñuales for Oxford University Press. She is also a Fellow of the Centre for Environment, Energy and Natural Resource Governance (C-EENRG), University of Cambridge, and the Managing Editor of the C-EENRG Research Series.
Educational Activities
At Leiden, Ginevra teaches in the undergraduate and graduate (LL.M.) programmes courses and seminars on public international law, criminal law, humanitarian law and human rights. She is the convenor of an undergraduate course on Principles of Public International Law.
Assistant Professor
Faculteit Rechtsgeleerdheid
Instituut voor Publiekrecht
Grotius Centre for Intern Legal Studies
No relevant ancillary activities