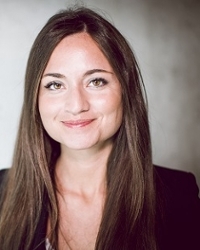 Ginevra Le Moli
Assistant Professor of Public International Law
Name

Dr. G. Le Moli

Telephone

E-mail
Ginevra Le Moli is Assistant Professor of Public International Law at the Institute of Public Law and the Grotius Centre for International Legal Studies at Leiden University.
Curriculum Vitae
Ginevra Le Moli completed her doctoral research at the Graduate Institute of International Law and Development Studies (IHEID). She holds an LL.B. and a Masters in Law cum laude from the University of Roma Tre, an LL.M degree in International Law from the Graduate Institute (cum laude) and a Diploma in International Law from the LSE (UK).

She was previously a Visiting Fellow at the Lauterpacht Centre for International Law, Cambridge (01-09/2019), a Legal Consultant with the UN OHCHR (2015-2018), and a Teaching Assistant for the LLM Programme in International Law of the IHEID, Geneva (2015-2019). Between 2016 and 2018, she took part in UN investigation teams for Syria and Yemen, with several field missions in Damascus, Idlib, Aleppo, Homs (Syria) and Sanaʽa and Taiz (Yemen). In Geneva, she also collaborated on a joint-project with the Global Migration Centre of the Graduate Institute and the OHCHR on the principle of non-refoulement in international human rights law. Previously, she was a Legal Adviser for NGOs (2013-2014) and a Junior Associate in the Litigation and Arbitration Department of the law firm Bonelli Erede, in Rome (2011-2012).
Research Areas and Interests
Her publications and research interests are in a broad area of international law that can be characterized as the protection of vulnerable persons, including human rights, humanitarian law, criminal law, migration law and environmental law as well as the law of international organizations. Her main current research project is a historical and legal investigation of human dignity as a normative value, the intellectual sources that drove and shaped its legal recognition, and the main legal instruments used to express it in international law.
Educational Activities
At Leiden, Ginevra Le Moli teaches Public International Law-related subjects in the Bachelor's and Master's programmes as well as in the Advanced LLM in Public International Law.
Assistant Professor of Public International Law
Faculteit Rechtsgeleerdheid
Instituut voor Publiekrecht
Grotius Centre for Intern Legal Studies
No relevant ancillary activities