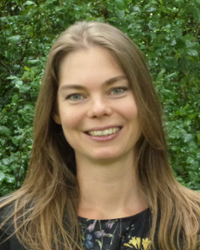 Florence Liard
Researcher
Name

Dr. F.B.R. Liard Ph.D.

Telephone

E-mail
Dr Florence Liard is a postdoc researcher in the VICI project Innovating Objects.
Office days
On appointment.
Research
My research examines the cultural biographies of material objects, and more particularly pottery, which is one of the most ubiquitous categories of findings in archaeological excavations of occupation contexts from the early Neolithic onwards.
I work on a bottom-up approach to pottery traditions during times of widespread disruptions in the Mediterranean region. I focus more particularly on phenomena of increased influence of some (social, political, ethnic) groups on others which, in turn and often in combination with other factors such as natural disaster, conflict, population movement, political or economic expansion, led to some cultural change on both sides, either in the form of acculturation, or in the reinforcement of regional traditions as a means of asserting one's cultural identity.
This research topic finds many applications in the history of Europe and the world, as large-scale migration and expansion events have been recurring and multifaceted phenomena throughout history, and they also find multiple echoes in today's world.
My research exploits all the information potential of ancient pottery assemblages through a multidisciplinary analysis of the ceramics' archaeological context, past function, and decorative style, as well as the texture, composition, and microstructure of ancient fabrics and decoration. This analysis allows me to redraw a detailed picture of the ancient diffusion networks of goods, commodities, as well as decorative styles and fashions. It also allows me to explore the fabrication process of the pottery and more particularly the technical knowledge that lays behind the product, the cultural and physical constraints of the fabrication process, its sociocultural background, and the role of craftsmanship in the workings of ancient societies.
Curriculum vitae
I hold a PhD in History, Art History and Archaeology from the Université Catholique de Louvain in Belgium (2015). My PhD thesis focused on a reconstruction of pottery traditions in eastern Crete based on a combination of archaeological investigation, typo-stylistic analysis, and a petrographic examination of pottery fabrics. Since 2015, I have developed archaeometric and archaeological research on medieval Greek ceramics from the Byzantine, Frankish and Venetian periods, as well as on late Hellenistic and early Roman pottery from the Aegean region. I have held postdoctoral research positions at the British School at Athens (Williams Fellowship in Ceramic Petrology, Fitch Laboratory), at Université Bordeaux Montaigne (Initiative d'Excellence and Laboratoire d'Excellence Programs) and at Universiteit Leiden (Postdoc VICI, LUF).
Researcher
Faculteit Archeologie
World Archaeology
Classical and Mediterranean Archaeology
Work address
Van Steenis
Einsteinweg 2
2333 CC Leiden
Contact
No relevant ancillary activities