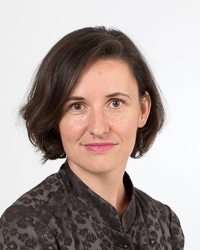 Esther Keymolen
Guest Staff Member
Name

Dr. E.L.O. Keymolen

Telephone

E-mail
Function
Esther Keymolen (1982) is guest lecturar at eLaw. She also participates in the LDE-Honours Programme "De Gelukkige Stad" (Contented City).
Her research and teaching is interdisciplinary in nature and focuses on: technology and trust as regulatory strategies (1), philosophical and ethical implications of the use of digital technologies (2), privacy (3), and the development and role of the iGovernment (4).
Biography
Esther holds a MA (2008) and PhD (2016) in Philosophy, both from the Erasmus University in Rotterdam. She is specialised in the Philosophy of Technology and Philosophical Anthropology. She also holds a BA in Music (2004). Before starting her doctoral research in 2010, Esther worked at the Scientific Council for Government Policy (WRR). As a scientific staff member, she co-authored the book iGovernment and conducted research in the domain of digital youth care.
Guest Staff Member
Faculteit Rechtsgeleerdheid
Instituut voor Metajuridica
eLaw@Leiden