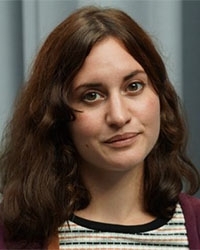 Elize de Mul
External PhD candidate
Name

Dr. E.E.M.M. de Mul

Telephone

E-mail
Elize de Mul has been connected to eLaw - Center for Law and Digital Technologies since January 1st 2013.
Biography
Elize de Mul studied science of Theatre, Film, and Television (TFTv) at the University of Utrecht. At the same university she got her master degree in New Media and Digital Culture (NMDC), cum laude. At the Erasmus University of Rotterdam she got her master degree in Philosophy of Humanities. At the moment de Mul is connected to eLaw, The Center for Law and Digital Technologies at the Faculty of Law as a PhD candidate. She also is a teacher of philosophy at ArtEZ school of the arts in Zwolle. She holds a broad interest for everything that has to do with 'digital culture', from computer games to social media, which she studies within the field of philosophy of technology.
Research
My research – Zelfbespiegelingen. Reflecties van onlife identiteit en privacy. (Reflections on the self. Reflections of onlife identity and privacy) – focuses on the influences of (the use of) contemporary technologies on human identity and privacy. Following on the field of Visual Culture I observe an ongoing visualisation in our culture. Using Helmuth Plessner's concept of ex-centric positionality as a framework I argue that this visualisation also means an ongoing externalization ('veruitelijking').
Using the (post-)phenomenological theory of Helmuth Plessner, I show that being the realisation of human identity always takes place in an indirect matter.
We can reflect upon ourselves, and take different perspectives toward our own being. We can observe three 'spheres' of human reality; internal, external and 'mutual' (the social realm). Because of this positionality, we are paradoxically always inside as well as outside ourselves. This makes public self-awareness possible and inevitable. We are social and related beings. Where the having of a boundary - and boundary traffic – and an awareness of this boundary, makes us existentially 'vulnerable', I argue that we can speak of an 'existential privacy' as well. I understand privacy as a situation of boundary regulation, which is immanent to our specific mode of (human) being.
I analyse three cases that not only are exemplary for the observed visualisation and externalization of culture, but also illuminate these phenomena from three different perspectives (first, second and third person). The first case is the 'selfie', causing an externalization of self-understanding. The second case is the 'quantified baby' movement and accompanying gadgets and technologies, influencing the relation between parent and baby. The third case is the internet meme, with emphasis on memes and 'digital shaming'.
External PhD candidate
Faculteit Rechtsgeleerdheid
Instituut voor Metajuridica
eLaw@Leiden
Schrijven van essays op freelance basis
Docent Filosofie