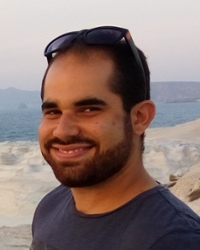 Dionysios Kalantzis-Papadopoulos
PhD candidate / guest
Name

D. Kalantzis-Papadopoulos MA

Telephone

E-mail
Office days
Dionysis Kalantzis Papadopoulos is based externally, and is only at the Faculty of Archaeology for several days a year.
Research
In 2019, I officially initiated my Ph.D. trajectory at the Faculty of Archaeology at the University of Leiden. The main research question of my thesis revolves around the study of 1) the Peloponnesian Late Medieval hilltop settlements and 2) their respective role in the transformation of the broader socio-economic landscape from the Middle-Byzantine (9th-12th c.) to the Late Byzantine/Medieval period (13th-15th c.) and further beyond. This Ph.D. project aims to unveil these complex phenomena through the archaeological investigation of the case study of Gardiki and its immediate hinterland. Gardiki, a Late Medieval Byzantine hilltop settlement, emerged as an important stronghold over a highly disputed borderland in Southern Peloponnese. A thorough study of the site and its frontier hinterland will enable us to identify urban and rural activity patterns and then attempt to unravel the social mechanisms behind these hilltop settlements' rise and later decline.
A further, more extensive examination of additional contemporary frontier sites in the region will shed light on the area's complicated cultural and economic character. This archaeological evidence, in conjecture with the crucial assistance of archival sources, will assist us in understanding the dynamic nature of Late Medieval frontier interactions not only in the localized context of the Peloponnese but also in the wider multicultural environment of the Aegean and the Near East.
Teaching activities
My teaching subjects broadly concern the Crusades and the Byzantine World in the Late Medieval period. I am particularly focused on the archaeological imprint of the Crusaders in the area of the Aegean and the wider Near East. Attention is given to the socio-economic dynamics and transformations of the Aegean landscape and its transition from the Medieval to the Post-Medieval period.
Curriculum vitae
I graduated from the University of Athens (GR) in 2015 after obtaining my BA degree in History & Archaeology and specializing in Medieval and Byzantine rural fortifications. In 2016 and 2017, I continued my MA studies in Medieval Archaeology at the University of Reading (UK) and focused on the study of Late Medieval (Crusader) socio-cultural landscapes and frontier interactions. A year later (2018), I was first involved in research at the Faculty of Archaeology at Leiden University, while 2019 was the starting year of my Ph.D. research under the supervision of Prof. J.A.C. Vroom.
PhD candidate / guest
Faculteit Archeologie
World Archaeology
Near Eastern