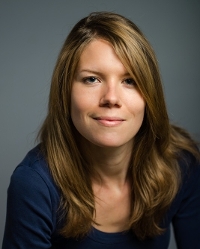 Dana van Son
Instructor
Name

Dr. D.M.E. van Son

Telephone

E-mail

ORCID iD
Dana graduated at the University of Amsterdam. Currently she works as a PhD student focusing on anxiety, cognitive performance and EEG.
Research
Ttitle: Anxiety and cognitive performance, better insights and new treatments.
Project description Acute stress, especially fear of cognitive performance and the evaluation of others or the demanding-self, has a negative effect on cognitive functioning in general. The executive functions (attention(control) and working memory) are in that case suffering from the directly harming effects of nor-adrenaline on the prefrontal cortex and indirectly by distractive negative thoughts which influence these functions and so reduce their efficiency. This impairment of cognitive functioning is burdensome to all anxiety disorders and perhaps mostly recognized in cognitive performance anxiety (e.g. anxiety to tests etc. in a school setting). Improving attentional control can be beneficial for these issues. The project mainly aims to have a closer look at a certain EEG biomarker for impaired attentional control in these processes, and, based on this maker, to develop an effective neurofeedback training to further reinforce attentional control.
Instructor
Faculteit der Sociale Wetenschappen
Instituut Psychologie
Klinische Psychologie
No relevant ancillary activities