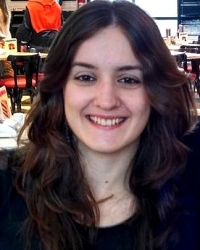 Catarina Guzzo Falci
PhD candidate
Name

C. Guzzo Falci

Telephone

E-mail
Current research (2015-2019):
Indigenous adornment in a pan-Caribbean perspective: the production, use and exchange of bodily accoutrements through the lenses of the microscope
Catarina Guzzo Falci is a PhD student at the Faculty of Archaeology in Leiden University. She is studying the biographies of adornments (beads, pendants, plugs, etc.) in the pan-Caribbean region, encompassing the Antilles and surrounding mainlands. Microwear analysis will be used to investigate the evolving patterns in production technologies, modes and degrees of usage, and exchange throughout the Ceramic Age period (400 BC – AD 1492). The comparison between artefact biographies for multiple case-studies will allow a critical assessment of previous ideas regarding large-scale interactions within and between these regions that were based primarily on iconography. The research aims at generating a new understanding of interactions in a multi-scalar fashion: from micro-regional, to inter-island, and finally to pan-regional networks that would have involved not only the trade of goods, but also the persistence and sharing of ideas and ways of doing things.
This research is carried out as part of the Caribbean Research Group and in collaboration with the Laboratory for Material Culture Studies.
Catarina's main interests include ornamentation of the body, pre-Colonial archaeology of the Caribbean and of the lowlands of South America, anthropological and archaeological approaches to technology and skill, microwear analysis, and South American ethnology.
Background:
Catarina obtained a Bachelor's degree in Social Sciences from the Universidade Federal de Minas Gerais (UFMG, Brazil). She was an intern at UFMG's Specialized Centre for Prehistoric Archaeology (2008-2013), where she analyzed lithics and ceramics from Southeastern Brazil and Amazonia. During the spring 2011, Catarina also did an exchange programme in the University of Texas at Austin (USA), following courses in archaeology ( magna cum laude honours). For her BA thesis (2012), she carried out a technological analysis of debitage associated to stone bead making from the southeast of the Amazon Basin.
During her Research Master at Leiden University (2013-2015), she focused on technologies of production and on use of bodily adornments in the Late Ceramic Age Caribbean. Using microscopic wear-trace analysis combined with experiments, a study of beads and pendants made of shell, stone, minerals, ceramic, and coral from north-central Venezuela and the northwest of the Dominican Republic was conducted.
PhD candidate
Faculteit Archeologie
World Archaeology
Caribbean and Amazonia
Work address
Van Steenis
Einsteinweg 2
2333 CC Leiden
Room number A2.07
Contact
No relevant ancillary activities