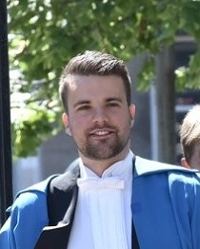 Bram van Leuveren
Lecturer
Name

Dr. B. van Leuveren

Telephone

E-mail

ORCID iD
Dr. Van Leuveren is a cultural historian of early modern Europe and particularly interested in the use of ephemeral arts, such as theatre, music, and temporary architecture, for diplomatic relations between elite and non-elite powers in the late sixteenth to mid-seventeenth centuries. His research is transnational, comparative, and interdisciplinary in scope. It focuses on questions of cultural exchange, translation, identity, and spectatorship. Dr Van Leuveren's first monograph, Early Modern Diplomacy and French Festival Culture, 1572-1615, is based on his doctoral research at the University of St Andrews, United Kingdom, and under contract with Brill.
During his Marie-Skłodowska-Curie Fellowship, sponsored by the European Union, Dr Van Leuveren will examine the astonishing theatre productions, including ballets, plays, and tableaux vivants, that were organised by the Dutch city councils from the 1570s until the 1640s for the visits of prominent ambassadors and royals from England and France. He is interested in the hitherto overlooked role that these theatre productions played in the public diplomacy of England, France, and the Low Countries. He aims to demonstrate how each of these three countries used the printing press and diplomatic correspondence to communicate their own vision of – and involvement in – the theatrical spectacle of the Dutch city council to the widest possible international audience.
Dr Van Leuveren is the winner of a Maddock Research Fellowship 2019 (Marsh's Library, Dublin) and a PhD Seventh-Century Studentship in 2014 (University of St Andrews, School of Modern Languages). He taught at the University of St Andrews in early modern history, historiography, seventeenth- and eighteenth-century art history and comparative literature (2019-2020), and lectured in arts, culture, and media studies at the University of Groningen, The Netherlands (2020-2021).
Other positions
Board Member and Information Office, The Society for Court Studies - European Branch Committee.

Coordinator of the International Network for Early Modern Festival Study.
Lecturer
Faculty of Humanities
Centre for the Arts in Society
KG Architectuurgeschiedenis
No relevant ancillary activities