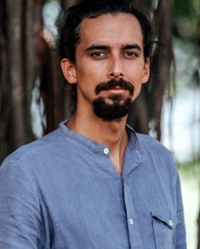 Benjamin Fogarty-Valenzuela
Assistant Professor
Name

Dr. B.L. Fogarty-Valenzuela

Telephone

E-mail

ORCID iD
Benjamin Fogarty-Valenzuela joined Leiden University as Assistant Professor of Cultural Anthropology and Development Sociology after receiving his PhD in Anthropology from Princeton University, and working as a Mansueto Institute Fellow at the University of Chicago. His current book project, Pedagogies of Occupation: Free Time, Professionalization, and Protest in Brazil, examines the politics, pedagogy, and policing of youth in urban Brazil, and is based on research that has been published in Current Anthropology. Building on two years of ethnographic fieldwork in Rio de Janeiro, the book explores three meanings of "occupation," contributing to debates on the politics of time, work, citizenship, education and activism.
Building on parallel work in Central America, in 2020, he launched Art of Captivity / Arte del Cautiverio (University of Toronto Press 2020, co-authored with Kevin Lewis O'Neill), a Spanish/English photo-ethnography and multimodal exhibition. The book investigates the intersection of incarceration and the war on drugs by way of the artistic production of youth inside drug rehabilitation centers in Guatemala.
Fogarty-Valenzuela's research has been supported by the National Academy of Education/Spencer Foundation, Open Society Foundations, and the Harold W. Dodds Honorific Fellowship. At the University of Chicago, he convened the Chicago Ethnography Incubator. His multimodal work won the 2020 Current Anthropology Visual Anthropology Competition, and in 2021 he became the journal's inaugural Visual Editor. He is currently working on a film that chronicles the occupation of a school by a vanguard youth movement in Brazil.
His recent published writing includes Camera Ocupa (Current Anthropology) and Sing with me, Sing, Brother of América (Current Anthropology), On the Importance of Having a Positive Attitude (with Kevin Lewis O'Neill, In Violence at the Urban Margins, edited by Javier Auyero, Philippe Bourgois, and Nancy Scheper-Hughes), and Verticality (JRAI, with Kevin Lewis O'Neill).
Assistant Professor
Faculteit der Sociale Wetenschappen
Culturele Antropologie/ Ontw. Sociologie
No relevant ancillary activities