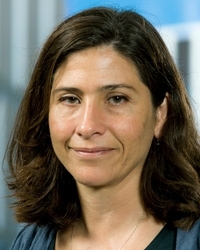 Anna-Pavlina Haramis
Assistant professor
Name

Dr. A. Haramis

Telephone

E-mail
I studied Biology at the University of Athens, Greece. I then performed my PhD studies at the European Molecular Biology Laboratory (EMBL) in Heidelberg in the lab of Rolf Zeller studying limb pattern formation in mice. I received my PhD from the University of Heidelberg in 1998 (magna cum laude).
More information about Anna-Pavlina Haramis
For my postdoctoral studies, I joined the lab of Nigel Holder and Steve Wilson at UCL in London as an EEC Marie-Curie fellow. There, I participated in forward genetic screens aimed at identifying mutants in developmental processes in zebrafish. I then worked as a postdoc in the lab of Hans Clevers in the Hubrecht Institute in Utrecht. I identified and characterized the zebrafish apc mutant, and unraveled a role for Wnt/beta-catenin signaling in regulating cardiac valve formation. I also validated the apc/+ zebrafish as a model to study cancer by demonstrating their high susceptibility to digestive tract neoplasia. In parallel, I analyzed the role of BMP4 signaling in mouse intestinal development. I showed that inhibition of BMP signaling in the intestine resulted in a cancer predisposition syndrome that phenocopies Juvenile Polyposis (JP) in humans.
In 2005, I obtained a Vidi grant from NWO and joined the Netherlands Cancer Institute, (NKI) first as a research associate and in July 2008 as a junior group leader analyzing the developmental roles of tumor suppressor and oncogenes in zebrafish. In May 2012, I joined the IBL as an assistant professor (UD).
Assistant professor
Wiskunde en Natuurwetenschappen
Instituut Biologie Leiden
IBL Animal Sciences & Health