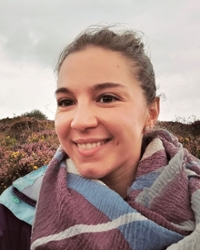 Andreea Nanu
PhD candidate
Name

A. Nanu MSc

Telephone

E-mail

ORCID iD
Andreea is a Junior Lecturer at the Institute of Environmental Sciences (CML) since August 2020, where she teaches on the Master's programme Governance of Sustainability, and on the Ecology course.
Professional experience
Andreea has a diverse background, with a Bachelor's degree in Communication, Culture and Media from Coventry University, UK, and a Master's degree in Earth Science - Environmental Management from the University of Amsterdam (UvA).
She began her career in the UK by working in project management and digital marketing within the educational and environmental sector by collaborating with Society for the Environment, Coventry University, and the Centre for Agroecology, Water and Resilience. A few years later she decided to apply her skills within environmental research projects, and in 2019 she obtained her Master's degree where she specialised in soil science and researched measures to mitigate high nitrogen deposition in both natural and agricultural environments.
For her thesis, she had the opportunity to take part in a larger collaboration project organised by KWR Watercycle Research Institute, the Institute for Biodiversity and Ecosystem Dynamics (UvA), and the Centre for Ecology and Hydrology (Wales) on the 'Effectiveness of Measures to Mitigate High Nitrogen Loads in Dry Coastal Dune Grassland Habitats in the Netherlands and Wales'. The results of this study were also used to inform the Programma Aanpak Stikstof (PAS) and the management of Natura2000 areas in the Netherlands and Wales. Andreea went on exploring sustainable agricultural methods which would stop the leaching of nutrients, pesticides, insecticides, and fungicides into the environment by taking on an internship specialisation in agroecology with a strong focus on intercropping and agroforestry with the Wageningen University's Plant Research - Business Unit Field Crops.
After her studies, Andreea continued working with KWR Watercycle Research Institute on the BTO Nitrogen Mitigation project and gave ecology-related workshops at Amsterdam's Green Living Lab.
PhD candidate
Science
Centrum voor Milieuwetenschappen Leiden
CML/Environmental Biology
Work address
Van Steenis
Einsteinweg 2
2333 CC Leiden
Room number B3.11
Contact
No relevant ancillary activities