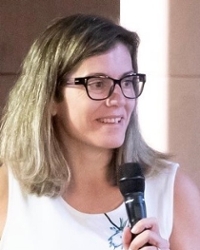 Ana Ramalho
Assistent professor
Name

Dr. A.B. Ramalho

Telephone

E-mail
Ana Ramalho is a Copyright Counsel at Google, with policy and legal expertise in the field of intellectual property (IP) and European law. Since December 2019 she is affiliated with the Europa Institute as an Assistant Professor, responsible for the course on European and International Intellectual Property Law. Previously, Ramalho was an Assistant Professor of Intellectual Property Law at Maastricht University, where she founded the Indie Art Legal Clinic, a pro bono legal advice service for artists and cultural entrepreneurs.
Ramalho holds a PhD in Copyright and European Law from the University of Amsterdam (2014), a Research Master in Intellectual Property Law from the University of Lisbon (2008), an LL.M. in Intellectual Property and Competition Law from the Munich Intellectual Property Law Center (2007) and a 5-year advanced LL.B. from the University of Lisbon (1999).
Ramalho has published extensively on IP law and policy. Her current research interests include copyright-related issues in the realm of artificial intelligence (AI), and IP regulatory aspects of new technologies and virtual realities.
Her work has been referenced in court cases by Courts of Appeal in Portugal, and translated into other languages. She is a member of the Editorial Board of the Journal of World Intellectual Property. She has been invited as speaker and guest lecturer in universities around the world, including the University of Melbourne (Australia), Nagoya University (Japan), the China University of Political Science and Law (China), Oxford University (UK) and the Federal University of Santa Catarina (Brazil).
Ramalho has done commissioned research and consultancy for a great number of private and public organizations, including the World Intellectual Property Organization, the European Patent Office and the European Parliament. She was responsible for a Jean Monnet Module under the Erasmus+ Programme, and was awarded a fellowship under the Researcher Invitation Programme from the Institute of Intellectual Property of Japan, as well as the World Universities Network Research Mobility Award.
Assistent professor
Faculteit Rechtsgeleerdheid
Instituut voor Publiekrecht
Europees Recht
No relevant ancillary activities