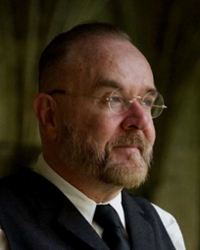 Ady Roxburgh
Guest
Name

Dr. M.A. Roxburgh

Telephone

E-mail
Office days
Ady Roxburgh has no fixed schedule. Appointments can be made by email.
Research
My research investigates how geopolitical change and religious control are reflected in the composition of copper-alloy costume artefacts, recovered from Roman and early medieval contexts. It engages with the challenging topic of portable X-ray Florescence Spectrometry use in archaeology, especially as applied to corroded copper-alloy artefacts. The relevance is twofold. Firstly it helps us better understand the globalising effects of the Roman Empire on distant cultures and the emergence of the western economy after the end of antiquity. Secondly it advances a methodology for the study of copper-alloy objects.This is investigated by detecting changes in craft production, considered a proxy for understanding changes in past economies and societies.

The rise of the Roman Empire brought about profound changes to large parts of Europe, including a vast increase in the production and trade of artefacts and raw materials, that greatly influenced the lives of the people living inside the Empire or its frontier regions. Less is known about the impact of long-distance contact with peoples living far outside the Roman frontiers. A better understanding is needed in order to model the transformation of societies contacted by this considerably different culture. The Baltic is such a region, where certain aspects of this past globalisation event may still be studied. Roman influence is very apparent on the copper-alloy personal dress ornaments found there. How and why did these items enter the region, especially in terms of their adoption and ongoing adaptation by Baltic societies? How influential was this contact with "Roman" material culture? Were copper-alloy goods produced in the Roman provinces really reaching the northern Baltic? Or are they local copies?
Curriculum vitae
Doctorate Degree - Faculty of Archaeology, Leiden University, 3rd December 2019, Supervisor ('Promotor'): Prof. dr. Frans Theuws (Leiden), Prof. dr. Hans Huisman (Groningen).

Masters Degree - Leiden University, Faculty of Archaeology, 2013. Subject: Archaeology

Masters Degree - York University, Faculty of Archaeology, 2010. Subject: Field Archaeology

BA (Hons) Degree - University of Sheffield, 1993. Subject: 3D Design
Postdoc
Faculteit Archeologie
World Archaeology
Historical Archaeology
Work address
Van Steenis
Einsteinweg 2
2333 CC Leiden
Room number FLEX
Contact
Guest
Faculteit Archeologie
World Archaeology
Near Eastern
Work address
Van Steenis
Einsteinweg 2
2333 CC Leiden
Contact