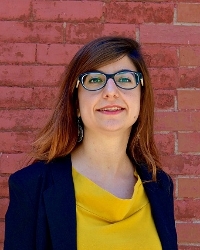 Arlinda Rrustemi
Lecturer
Name

Dr. A.R. Rrustemi Ph.D.

Telephone

E-mail
Arlinda Rrustemi is a lecturer at the Institute of Political Science.
Arlinda Rrustemi is a Lecturer at Leiden University for MA and BA programmes on Politics and a Director of Peace Analytics. She supervises both BA and MA thesis and is open for PhD supervisions.
She holds a B.A. (cum laude) on Liberal Arts and an LL.M. degree in Public International Law from Utrecht University. Arlinda finalised a doctoral degree in the interdisciplinary research of law and politics called 'State-Building through Life Stories: Incorporating Local Perspectives', supported by the Netherlands Organisation for Scientific Research (NWO). She has been in exchange at Free University of Brussels, New York University, and Central European University. She has previously worked as a Strategic Analyst and a Senior SA at the Hague Center for Strategic Studies, and as a Special Advisor to Columbia University. She has been active in several NGOs and IOs: the Youth Initiative for Human Rights (YIHR) in Kosovo, the International Tribunal for the former Yugoslavia (ICTY), the International Criminal Court (ICC) and at various Ministries in the Republic of Kosovo.
Her work focuses geographically on Europe, the Sahel region and the Middle East. Her research interests are in conflict, violent extremism and prevention, resilience, geopolitics (Russia, China, Turkey, Iran, and Gulf countries), humanitarian intervention, post-conflict reconstruction, state, nation and peace building, peace infrastructures, democracy, artificial intelligence for security and peace, the accountability of international organisations, and international relations and diplomacy. The lifestories approach is used in her work for both research and societal impact. Her research employs mixed methods, quantitative data for understanding trends and qualitative data for understanding new phenomena.
Lecturer
Faculteit der Sociale Wetenschappen
Instituut Politieke Wetenschap
No relevant ancillary activities