Centre for Computational Life Sciences (CCLS)
Special CCLS Meeting 29 November 2019
On 29 November the annual symposium of the Centre for Computational Life Sciences took place. Scientists from the Leiden University Science Department and the LUMC came together to listen to presentations and discuss these in a special symposium, in the, even in the autumn, beautiful Hortus Botanicus.
The afternoon started with lunch at the Faculty Club, which is located at the entrance of the botanical gardens. The group then moved to the top of the large glass house at the entrance, where Gerard van Westen and Michael Emmerich welcomed everyone.
Julia Handl, Manchester University gave the first presentation of the day and explained her work on Data-driven Optimization: Using machine learning principles to focus the search in evolutionary optimization. In her talk she was also highlighting applications in molecular biology, such as protein folding and clustering biological data.
This was followed by a short update on what CCLS has achieved in 2019 and what the plans are for 2020.
We were then joined by Fred and Jack, volunteers from the Hortus, who gave a workshop on Herbs & Spices, which gave us a fascinating insight into the world of plants. We were shown samples of seeds and fruits from plants that are cultivated at the gardens; from chili peppers, to freshly picked lime leaves and coffee beans.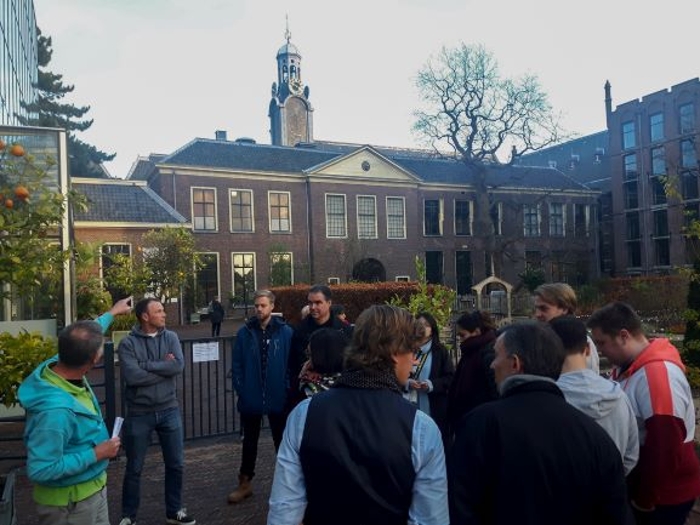 One of the more well-known ones, which grows on ponds, is the Victoria Amazonica, a waterlily with huge leaves, strong enough to carry a human. We were guided along beautiful plants, some with flowers or fruits.
Upon return to the symposium room the talks were resumed. Four PhD students from the diverse institutes which form the CCLS held presentations on their current research.
Lindsey Burggraaff LACDR - Challenges in Computational Drug Discovery - Bridging Computer Science and Medicianal Chemistry
Irene Martorelli LIACS - Integration and Computational Analysis of Fungal Metabarcoding Data
Rob van Wijk IBL - The Zebrafish as Whole Vertebrate Organism for Systems Modelling
Thomas Bakkum LIC - Data Processing and Analysis in Correlative Light and Electron Microscopy
Their talks can be found on the CCLS website as PDFs.