Research project
Stress and stress management in chronic inflammatory conditions
The major aim is to determine the role of stress and stress-related psychophysiological mechanisms (e.g., cognitions, behaviors, and physiological stress responses) of patients with chronic inflammatory conditions and to develop and evaluate stress management interventions to alter the psychophysiological stress response.
Funding

Reumafonds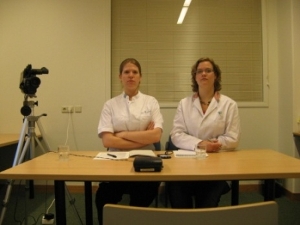 Patients with chronic inflammatory conditions, such as rheumatoid arthritis or psoriasis, often suffer from physical disability, physical symptoms, such as pain, itch, or fatigue, and psychological difficulties that are associated with a chronic invalidating or stigmatizing disease. Many factors contribute to the etiology or maintenance of chronic inflammatory diseases, one of them being stress. Stress is a broad concept for a complex process including the exposure to psychological or physical triggers (i.e., stress exposure), the evaluation or perception of these stimuli as being stressful (i.e., stress evaluation), and the subsequent activation of a psychophysiological cascade (i.e., the stress response) in the organism in order to re-establish homeostasis. Because this cascade acts upon the immune system through activation of the autonomic nervous system (ANS), including the sympathetic adrenal medullary (SAM) axis, and the neuroendocrine system, including the hypothalamus-pituitary-adrenal (HPA) axis, this cascade also acts upon the immune system and consequently possibly stress is able to influence disease processes.

There is a growing body of evidence that suggests that psychological interventions are able to change various psychophysiological parameters of stress and/or disease, which indicates that it may be possible to counteract the harmful effects of stress on health with an intervention aimed at reducing the psychophysiological response to stress. This research program aims to provide greater insight into the nature and reactivity of the psychophysiological stress response system of patients with different chronic inflammatory diseases, and to develop and investigate the effectiveness of stress management interventions to alter the psychophysiological stress response of patients with chronic inflammatory conditions (for current ERC-project on stress, see research program 'Placebo research: Training of the immune and endocrine system').
Researchers Leiden University: Prof.dr. Andrea Evers, Dr. Henriët van Middendorp & Drs. Sabine de Brouwer.

This research program is part of the Research Group Psychoneurobiology of Health and Disease (www.andreaevers.nl), in collaboration with the Leiden University Medical Center and the Radboud University Medical Center, among other centers.