Research project
Self- and group-identity in the process of quitting smoking
This project examines the role of self- and group-identities in smoking-cessation.
Contact

Funding

Partners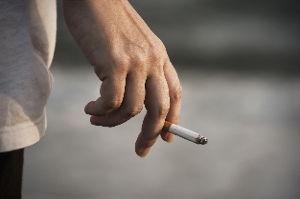 Questions
While there is much research on smoking-cessation, very little work has looked at the role of identity in smoking and particularly identity as an important factor in the transition to becoming someone who no longer smokes. Similarly, although there is quite some knowledge on the importance of group-identities in intergroup processes, hardly any work has examined the circumstances under which identities change, and the specific processes involved. This is crucial when wanting to effectively support those who wish to make a change in behaviour that will sustain over time.
Identity
Imagine two smokers with similar smoking behaviour: 'John' and 'Paul'. John truly feels that he is a smoker, and feels very much at ease with other smokers. Paul however thinks that smoking does not fit with who he is and he feels more connected with nonsmokers than with smokers. It is not difficult to imagine that Paul is more likely to quit smoking than John. Indeed, how we see ourselves greatly determines our feelings and behaviour. Humans are unique in their ability to form mental representations of themselves, constituting an "identity" or "self". In other words, we contend that what people think about who they are (e.g, "smoking is important for who I am") is likely to be far more influential for how they behave than, for example specific outcome-expectations ("if I smoke I may get a disease").
Project aims
We examine smoker- and nonsmoker self- and group-identity influences on smoking behaviour and responses to antismoking measures, as well as identity change processes. In addition, as smoking behaviour has been found to differ between smokers from lower and higher socioeconomic backgrounds, we explore how socio-economic status (SES) may interact with identity.
We investigate 1) how self- and group-identity influence smoking behaviour and responses to antismoking measures, and whether these relations are moderated by SES (RQ1), 2) how strengthened quitter self-identity and imagined support for quitting influence smoking behaviour and responses to antismoking measures, and whether these relations are moderated by SES (RQ2), and 3) how self- and group-identity may change over time and how self- and group-identity affect the process of transition from one state, i.e., being a smoker, to another, i.e. being a non-smoker (RQ3).
Main findings
Our main finding up until now is that, controlled for other important influences such as nicotine dependence, the nonsmoker/quitter identity (future self) of smokers is far more predictive of quit-intention, quitting behaviour and responses to antismoking measures than smoker identity (current self). Thus, smokers need to be able to see themselves as future non-smokers in order to be able to quit. In an online experiment, we successfully elicited future self-views as quitters in a writing exercise, and managed to increase the so-called quitter identity for most of participating smokers.
Our ongoing qualitative work confirms that identity change is essential for continued abstinence and points to mechanisms (e.g., creating new patterns) and facilitators (e.g., quitting smoking makes existing identity more coherent) of identity change. Preliminary results of a large-scale quantitative study involving 7 yearly-measurement waves among over 2000 smokers show that attitudes toward quitting and acceptance of smoking are predictive of identity change among smokers and ex-smokers, and confirm our finding that quitter identities (future selves) are more important than smoker identities (current selves) in predicting quitting behaviour among smokers.
Taken together, our results suggest that smoking cessation interventions and antismoking messages are likely to be more effective when identity is taken into account.

Supervisors Leiden University Dr. Winifred A. Gebhardt and Prof. dr. Andrea W.M. Evers.
PhD student Eline Meijer, MSc