Research project
Adoption and foster care
-
Contact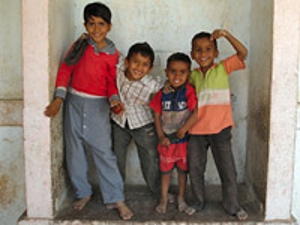 Background
Historical and ethological studies have shown that human beings, like many non-human species, are adapted to devote their parental investment to genetically unrelated children. International or domestic adoption and (kinship) foster care affect numerous families. For example, worldwide each year about 30,000 children are adopted internationally.
Many adopted and foster children have a background of severe adversity with experiences of separations, abuse, neglect and malnutrition in orphanages or families with limited resources. In studies on orphanages in Greece, Ukraine, and India we showed that early deprivation and psychopathology can seriously harm infant functioning and later child development. However, meta-analytical evidence has shown that adoption is a massive positive intervention in children's lives compared to growing up in institutional care.
In this research cluster we examine the long-term effects of adoption and foster care on all domains of child development (attachment, emotional, neurobiological, and cognitive development).

Because in adoptive and foster families parents and children are genetically unrelated, the impact of parenting on these children's development can be studied without the influence of shared genes. Adoption studies may thus contribute to our general knowledge of nature and nurture.
The Leiden Longitudinal Adoption Study (LLAS) is an example of such a longitudinal study in which we follow adopted children from infancy to young adulthood to shed light on the underlying processes and mechanisms of child development.
In observational and survey studies we also investigate the influence of child characteristics (e.g., special-needs adoptions, temperament) and parent qualities (e.g., parental sensitivity) with the aim to inform professionals about the needs of adopted and foster children and to help adoptive and foster parents with supportive interventions. For instance, the VIPP-SD programme adapted for adoptive parents was shown to be effective in enhancing sensitivity and preventing insecure-disorganized attachment.