Dissertation
Land Rights and the Forces of Adat in Democratizing Indonesia
Land conflicts between citizens on one side and the government or plantation companies on the other are widespread in Indonesia. This study looks at such conflicts and focuses on how local land users invoke indigeneity to claim land rights in South Sulawesi.
Author

Willem van der Muur

Date

09 January 2019

Links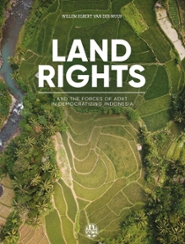 Since the fall of the authoritarian New Order regime in 1998, the indigenous movement in Indonesia has become one of the world's largest national movements to champion the cause of rural communities. Its advocacy has pushed the government to implement legal reforms that have widened the scope for recognition of collective land rights. In the context of Indonesia's widespread land conflicts, an important question is who gets to benefit from laws that grant land rights on the basis of indigeneity? By design, such laws are limited in their scope, given that they only grant rights to those that qualify as indigenous.

In order to explain how indigeneity can actually empower local communities, this book adopts the perspective of actors at the local level. Focusing on how local land users in South Sulawesi invoke indigeneity in their struggles over land, this book explores the local processes through which claims to indigenous adat land rights succeed or fail to be recognized.

The book combines case studies, legal analysis, and theories on social movements and collective action frames. The book alarmingly shows that by making indigeneity a prerequisite for land rights, the most vulnerable people may actually be excluded from obtaining such rights.
The study was conducted at the Van Vollenhoven Institute for Law, Governance, and Society under the supervision of Professor Dr Adriaan Bedner and Professor Dr Jan Michiel Otto.