More news about the Library
Here you can find regular updates about our library.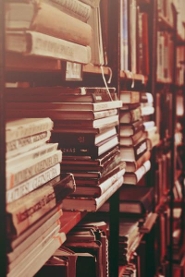 Monthly Novelties from our Librarian
Dear library friends,

I hope you are enjoying the last bits of autumn now winter is almost knocking on our door. I also hope many of you consider these falling temperatures as the ultimate excuse to slow down with a book and a cup of hot chocolate, as I do too. Last month, we introduced our new catalogue to our staff members. Mr Ashraf Barzy, who helped us throughout the installment and will continue to collaborate with us to maintain and further develop the system, explained how it works and which interesting features it has for an academic institution like the NVIC. We learned a lot! After we finished up on our inventory, we decided to say goodbye to a number of Turkish titles in our collection. The Turkish Cultural Center in Cairo will offer them a new home. Since these books have left an empty space on our shelves, we had the opportunity to buy books to replace them. If you are curious to know which books we purchased, keep an eye on our Facebook page… We hope to see you at the library soon!

Sincerely,

Tine
Librarian NVIC

Dear library friends,

I hope you are doing well.

We have been through some very successful months at the library! Not only has Zakariya inserted all the data linked to the books we bought at the International Book Fair into our catalogue, our library was also filled with students and researchers daily. At times we even had a full house!

During the summer months, the library's opening hours will be slightly different. We will open our doors from 9 am to 2 pm on weekdays during Ramadan. On other summer, sunlight-filled weekdays, you are most welcome to join us between 9 am and 3 pm. Don't forget you can follow our updates through the NVIC Facebook page.

Here's to a splendid summer!

'Good Books', by Edgar Guest

Good books are friendly things to own.
If you are busy they will wait.
They will not call you on the phone
Or wake you if the hour is late.
They stand together row by row,
Upon the low shelf or the high.
But if you're lonesome this you know:
You have a friend or two nearby.

Tine, Librarian NVIC
Librarian's letter
Some of the NVIC library new arrivals!

- Lisa Wedeen: "Peripheral Visions: Publics, Power, and Performance in Yemen"

- Abu Hamid al-Ghazali, David Burrell (translator): "Al-Ghazali on the
Ninety-nine Beautiful Names of God"

- Jan Koek et al: "Mehen: Essays over het oude Egypte"

- Andre J. Veldmeijer, Salima Ikram: "Chasing Chariots: Proceedings of
the First International Chariot Conference (Cairo 2012)"

- Catherine Graciet, Eric Laurent: "Le Roi prédateur: Main basse sur le Maroc"
- Leo Roeten: "The Decoration on the Cult Chapel Walls of the Old
Kingdom Tombs at Giza: A New Approach to Their Interaction"

- Suad Joseph: Women & Islamic Cultures: Disciplinary Paradigms and
Approaches: 2003 – 2013"

- Geula Elimelekh: "Arabic Prison Literature: Resistance, Torture,
Alienation, and Freedom"

- Jeremy Pope : "The Double Kingdom under Taharqo: Studies in the
History of Kush and Egypt, c. 690 - 664 BC"

In our linguistic category, we now have "Berberstudien & A Sketch of Siwi Berber (Egypt)", "Arabic Verbs in Time: Tense and Aspect in Cairene Arabic", "Berber and Arabic in Siwa (Egypt): A Study in Linguistic Contact", "Coptic Egyptian (Sahidic Dialect): A Learners Grammar" and "Developing Writing Skills in Arabic".

For the literature fanatics amongst you, there is "The Quest for a Lost Identity: Palestinian Fiction in Israel" and several Arabic novels.

The Islamic studies section now contains "Temporary Marriage in Sunni and Shiite Islam" and "Controversies in Contemporary Islam".

"The UN and the Arab-Israeli Conflict: American Hegemony and UN Intervention Since 1947", "Egyptian Foreign Policy from Mubarak to Morsi: Against the National Interest", and "Islam and Political Reform in Saudi Arabia: The Quest for Political Change and Reform" are ready to be taken from our history shelves.

Egyptologists might be happy to know we added "Elephantine XXV: Der Widderfriedhof des Chnumtempels", "Innovation und Tradition: Zur Herstellung und Verwendung von Prestigegutern im pharaonischen Agypten", "Die Nekropole als Figuration: Zur Methodik der sozialen Interpretation der Felsfassadengraber von Amarna", and "Echnaton Tutanchamun: Daten, Fakten, Literatur" to the collection.

"Environmental Politics in Egypt" can now be found at the G category. Last but not least, "Folklore and Folklife in the United Arab Emirates", "Palestinian Political Prisoners: Identity and Community ", "Sport in the Middle East: Power, Politics, Ideology and Religion ", "Industrialization in the Gulf", "Planning Middle Eastern Cities: An Urban Kaleidoscope in a Globalizing World", "The Evolving Arab City: Tradition, Modernity and Urban Development", "Social Work in the Middle East", "Ethnic Politics in Israel: The Margins and the Ashkenazi Center", "The Transformation of The Gulf: Politics, Economics and the Global Order", and "Palestinian Refugees: Identity, Space and Place in the Levant" are now a part of our very diverse sociological section.

You are welcome anytime to read through these books – and don't forget to stop by and say hi!
Knowledge is freedom!

Best,
Tine
Coptic art in images
The library of the NVIC has recently received a large collection of scanned pictures of Coptic art objects, such as wall paintings in the desert monasteries (e.g. Deir Anba Antonius, Deir Anba Bula and the Wadi al-Natrun monasteries), and icons in the Coptic Museum and churches of Cairo. This unique image archive has been built up by the art historian Prof. Paul van Moorsel (1931-1999) of Leiden University and his successors, who have joined forces under the umbrella of the Paul van Moorsel Centre for Christian Art and Culture.

Paul van Moorsel is reputed for his pioneering studies about medieval wall paintings in Coptic monasteries and churches, and late Ottoman icons. In the course of time, his archive of slides and photographs of Christian art objects in Egypt increased considerably. After his death in 1999, this archive was bequeathed to the Netherlands Institute for the Near East in Leiden (NINO). Meanwhile, his successors had continued the fieldwork in the Middle East and, as a result, had a their own slide archive run by the Paul van Moorsel Centre, which was founded in 2000. Soon thereafter, the NINO and Paul van Moorsel Centre joined forces with the Index of Christian Art (ICA) of Princeton University to make both collections accessible to a wider interested public. This co-operation resulted in the scanning of a selection of relevant slides, which are now included in the ICA database and available for study in the offices of the NINO and the Paul van Moorsel Centre.

A third collection of slides and photographs was kept in the library of the NVIC. Since the space in the institute's library is rather limited, it was decided to transport these slide boxes and documentation maps to Leiden. In return, CDroms with all scans of Coptic art objects are now also available in the NVIC, allowing scholars working in Egypt to consult this material. The images are available for publication, but permission should be obtained from the Paul van Moorsel Centre.
Emery's photo album
The library of the NVIC started in 1971, when the Egyptological - Archaeological library of the late Professor W.B. Emery was acquired. Included in this library were several personal papers and pictures.

Lately we were informed that the Egypt Exploration Society is in possession of other personal items of Prof. Emery. For future research it seems appropriate to concentrate personal materials of Prof. Emery in one place so we decided to donate our items as a good addition to the archive of the EES library in London. Here it will be accessible for research for the international scientific community.

Our donation includes the following items:
- family pictures with Molly Emery and Emery himself;
- pictures of Dick Emery in e.g. Kenia, 1928 - ca. 1930;
- excavation pictures from Lybia (Germa, Zenkekra, pottery, architecture, inscriptions and jewelry);
- a copy of a manuscript by V.A. Padanyi;
- letters to W.B. Emery (invitations, lectures, dinnerparties);
- personal notes.

General email: info@nvic.leidenuniv.nl