University elections: student parties introduce themselves
Better links with the job market, diversity, quality of education, student well-being and free coffee. All these are issues that the student parties taking part in the University elections will be fighting for. The candidates are keen to tell you a bit about themselves. Between 9 May and 13 May you can vote for the person you want to represent you in the University Council and your Faculty Council.
The participation bodies at Leiden University play a part at university level in the University Council and at faculty level in the Faculty Councils. The University Council monitors the activities of the Executive Board closely, gives advice both on request and on its own initiative, and has a say in decisions on important issues. Everyone who is enrolled as a student at Leiden University on election day is eligible to vote.
This year, seven student parties are taking part in the university elections. As a student, you will be voting for the University Council and for your Faculty Council. Not every party has candidates for every Faculty Council. You can find out who is up for election for your faculty on the election website.
DSP The Hague
Candidate: Ella Picavet
The Democratic Student Party - The Hague is a party that has always worked to represent the opinions of our fellow students actively and respectfully, aiming to address current hopes and concerns. We are a party that isn't afraid to express criticism of the management, to make the opinions of our colleagues known and to address issues such as diversity, inclusiveness and student well-being. One key aim for us is that everyone should have a voice and that this voice has to be listened to, respected and represented. A vote for DSP is a vote for inclusiveness!
Website DSP The Hague
Instagram DSP The Hague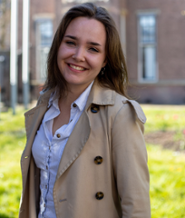 CSL
Representative: Joanne Sloof
I am Joanne Sloof, and I represent CSL for the University Council. We are dedicated to promoting your well-being and we stand firm on the importance of a secure digital teaching climate. We also advocate better links with the job market, so that your talents can be developed to the maximum. We are in favour of smaller-scale teaching, expanding flex studying, more attention for preparing you for the job market in the final year of your programme and interdisciplinary education. As students, we work together to promote our wellbeing, a university that takes your future into account and the quality of education to which we are entitled. Vote for CSL: for your future!
LSP
Candidate: Bas Knapp
The University elections are the opportunity for students to put their stamp on the day-to-day happenings at out fantastic University. Whether it's about study facilities, how we can make our premises more sustainable, how we can improve the quality of the education or promoting a rich student life: there's a good chance that the University Council and/or the Faculty Councils are involved and have a say in all these issues. LSP is the newest, fastest growing and biggest student party in Leiden. Our motto is: your student years are about more than studying. And that's what we aim to promote! Questions or suggestions? Contact us via social media.
LVS
Candidate: Jeppe Bandringa
LVS promotes the interests of all students, including international students. We stand for inclusion, diversity and a sharp, critical view of the University. The well-being of students, a place where everyone can feel at home, and an environment where we are treated respectfully as students and where we can be involved: these are my priorities. That means treating students equally, and including students with other needs and convictions, and those who do not speak Dutch. When looking at policies, we focus on the impact on our health, including mental health, pressure of work and well-being as students. Make sure you vote for LVS!

Website LVS
Instagram LVS
ONS Leiden
Candidate: Bram Leferink op Reinink
ONS is the green party for active students. Your student years are a time when you should be developing across all fronts. The university that ONS represents is a university that provides excellent education and research, that cares about your personal development and wellbeing, that supports Leiden's student associations, ensures good working conditions for its staff and makes a contribution to society. In short, an ambitious and world-class university. Do you share these ambitions? Then vote for ONS!
Website ONS Leiden
Instagram ONS Leiden
Belang van Omar
Candidate: Omar Ghaly
A new wind is blowing through university politics, a new momentum. Belang van Omar, for myself, because someone has to do it. There is just one party for the student who doesn't give a damn, one party for students who think it's all OK, one party for students who are able to enjoy ordinary populism. And maybe, who knows, the interests of Belang van Omar could be your interests too. Do you want free coffee? Do you want to watch football on University premises? Do you want fast food in the Lipsius restaurant? If you answer 'yes'to any of these, then vote for me. Not that I can change these things from the University Council or the Faculty Council. But during this campaign, I'm living the dream.
PBMS
Candidate: Rebekka van Beek
For and by students: that's what participation should be. As the Party for Science and Medical Students (PBMS), we want every faculty/department to have structural representation. As a party with a lot of science and medical students, we also believe in the need for adequate study facilities, student well-being and freedom of studies. The University has to promote the feasibility and the excellence of its study programmes. It has to pay close attention to study pressure, remove unnecessary breaucratic stressors and facilite students who want to achieve more. So, vote stem @pbms_leiden!