Alumna Cultural Anthropology Van der Helm is 'Stadsfotograaf' Leidsch Dagblad
Every year a photographer portrays Leiden as Stadsfotograaf (City Photographer) of the Leidsch Dagblad. This year it is the honor to Leonie van der Helm, an alumna of cultural anthropology. Over the next 52 weeks, Van der Helm will visualize the meaning of 'home'.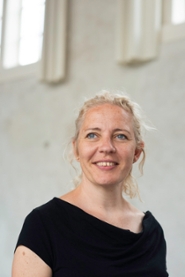 Last week her first photo as Stadsfotograaf has been published. The Italian couple Stefano and Silvia are shown in the picture. They live together in their house in the Leidse Kooi. They talk about what home is and what makes them feel at home in the Netherlands as well as in Italy. Van der Helm: "I was asked to do something with corona, but I didn't like that very much. The images of empty terraces with ribbons, I was quite done with that. Everyone has been sitting at home a lot lately. I think that's a more interesting link with the theme. That's why next year I'm going to look for people's feeling of home. That can be a house, but it doesn't have to be. Van der Helm wants her portraits to be as diverse as possible. "In addition to people in ordinary houses, I would also like to portray people who live in a special place and, for example, people who live on the street or have fled. For them, home has a different meaning.
Lockdown portraits
Normally people sign up to be a Stadsfotograaf and the Foundation selects a winner. This year things went differently and Van der Helm was asked directly by the board. "I've only been working as a photographer for two years now and then if you're asked for such a project, that's great! According to Van der Helm, this is partly due to her lockdown portraits. During the lockdown period, she cycled all over Leiden for a month to shoot 'window portraits'. People could have a portrait made from 20 euros via a crowdfunding site. She photographed almost 200 people and raised 4000 euros for refugees in Lesbos.
Photographer via a detour
Van der Helm graduated as a cultural anthropologist in Leiden in 1998. After two years working for a development aid organization and some wandering around, she became a policymaker for the Municipality of Leiden. But that didn't entirely fit in either. Van der Helm: "When I discovered photography, about two years ago, everything came together: my creative side, my interest in people, and my study of anthropology. Strangely enough, I didn't study visual anthropology. I didn't know at the time that that was my calling. I first had to do some peregrinations. But with anthropology you can go in many directions, you learn to look at the world in a certain way and that's something you can put to good use in many (working) places".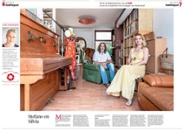 Anthropology and Stadsfotografen
This is not the first time that a cultural anthropologist has fulfilled the role of Stadfotograaf. In 2018-2019 seven young Leiden anthropologists were Stadfotograaf. Van der Helm: "Anthropologists learn to look around carefully, which is a characteristic that also comes into its own as a photographer. Photography is a profession in itself, but the interest in your fellow man, what they do and why they do it, is something anthropologists and city photographers share".