0.9 million EU subsidy for research sustainable tourism Indonesia
Jan Slikkerveer, professor in ethnobotanical knowledge systems, wants to develop a new form of sustainable tourism that not only focuses on preserving nature, but also the culture of the host country. For this, he receives an Erasmus Plus grant of 900,348 euros from the European Commission.
Preserving nature and culture
With the new project, Slikkerveer wants to set up a new framework for managers in ecotourism in Indonesia. 'Indonesia is under increasing pressure from the annual influx of more than 20 million tourists. But, current ecotourism in Indonesia is failing. It only focuses on the conservation of nature and even on that, there is still much to be gained. But in addition to preserving biodiversity, the standards and values ​​of the local population must also be taken into account. This creates a form of tourism that takes into account the local community, preserves cultural diversity and benefits the local economy.'
The project is called Integrated Ecotourism Management in Indonesia (INTEM). As part of this, Slikkerveer will set up the Integrated Ecotourism Management Master's program together with Greek and Indonesian universities. This study should prepare a new generation of tourism managers to realize this sustainable form of tourism.
Sustainable development
Slikkerveer is director of the Leiden Ethnosystems and Development Programme (LEAD), with with he has already set up several projects in the multidisciplinary field of applied ethnoscience. 'This field of science focuses on sustainable development and is therefore increasingly attracting the attention of the international donors community,' he explains.
By studying the role of local knowledge and culture in sustainable development, the researchers hope to be able to make an important contribution to solving sectoral problems such as unrestrained mass tourism in Indonesia. The Indonesian Ambassador in The Hague, I Gusti Agung Wesaka Puja, previously visited the LEAD Program to support the project.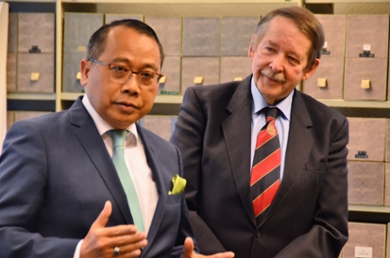 From the Leiden Faculty of Science, The LEAD program and the Institute for Biology (IBL) are involved in the project. In addition, the Universitas Padjadjaran and Universitas Pendidikan Indonesia in Bandung, as well as the Sekola Tinggi Parawisata Trisakti, the Indonesian Hertitage Society and the Martha Tilaar Foundation in Jakarta form the Indonesian partners. The Greek partners consist of the Mediterranean Agronomic Institute of Chania and the School of Tourism of Crete.
For more information, also see: Eindelijk eerlijk toerisme, hoe de lokale economie en de natuurkunnen profiteren, Mare (in Dutch)
Cover photo: the traditional Sundanese Sisingaan dances in Subang (West Java), which decorate the village feasts of marriage, birth and the inauguration of a new home, are becoming more and more popular among tourists. Photo: K. Saefullah (2017).