"Your connection to Leiden and the faculty starts today and will continue forever "
The new academic year starts in two-and-a-half weeks' time and then, after a long summer, we will welcome all new and current students to our faculty.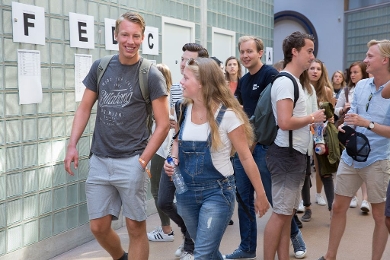 Welcome!
1050 (numerus fixus) first-year bachelor students will start in September. This week the ElCid week is underway - university introduction week - and on Wednesday 17 August, 720 new students came to the Kamerlingh Onnes building for the faculty day. They received their schedules, attended a welcome lecture and fired questions at Alexander Pechtold – MP for the D66 party in the Dutch Lower House – about his time as a student and the political plans for education. To round the programme off, they were given a taste of our current affairs lectures by Dr Jerfi Uzman who delivered a lecture entitled "Trump the Constitution: de Amerikaanse presidentsverkiezingen en het staatsrecht" on the US election.
Master community
More than 1000 new master students enrolled to start their studies in September, of which 155 are international students. The largest group (10%) has opted for the master programme Public International Law. In addition we will welcome 110 international exchange students who will take one or more courses. And finally, around 250 international students will start an Advanced Master programme.
To help everyone find their way around Leiden, for all new master students – national and international – an Orientation Week Leiden has been organised. On Tuesday 30 August there will be a faculty day for our international students when everyone will be shown around the faculty.
In September the academic year for the bachelor students (1st, 2nd and 3rd year) gets started in earnest. The master students will follow the start of their programme schedule which can vary from an opening lecture to a BBQ. See the online agenda for a complete overview.
Opening Leiden Law School Academic Year Wednesday 7 September
Leiden Law School Academic Year 2016-2017 will be opened by the new Dean Professor Joanne van der Leun in the Hooglandse Church. Professor Willem van Boom will hold the opening lecture and the JSVO Teaching Prizes and first-year diplomas will be presented.
Check out all events and student experiences via: