Mirjam van Reisen appointed professor Computing for Society
On January 1st, 2016, Dr. Mirjam van Reisen was appointed professor Computing for Society. The chair Computing for Society was created in order to apply Data Science to worldwide health care innovation.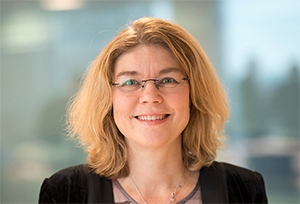 With this chair, Leiden University aims to strengthen the role of computer science in society, particularly in the fields of health care and international relations. Van Reisen will investigate how ICT can improve the quality of health care by making use of data intensive techniques. She will look at the role of mobile telephones, mobile money transfers and international data traffic as the new drivers in worldwide health care support.
Appointment
Van Reisen is appointed at the Leiden Centre of Data Science (LCDS). The chair is hosted by the Leiden Institute of Advanced Computer Science (LIACS). The Leiden Centre of Data Science (LCDS) is a network of researchers from different scientific disciplines, who use innovative methods to analyse, interpret and visualise large amounts of data. Collaboration between these researchers leads to new solutions for problems in science and society.
Collaboration
The chair connects Data Science with Health Sciences. This will strengthen the collaborations between LIACS/LCDS, the Leiden University Medical Center and UN Global Pulse (the United Nations' "Big Data department").
Data Science
The challenge for Data Science research in the field of Health Sciences lies in the heterogeneity of the data, caused by differences in origin, context and culture. Furthermore, differences exist between machine generated data, due to diagnostic devices and the problem of incomplete and heterogeneous data.
Research experience
Prof. Dr. Van Reisen leads the research network Globalisation, Aging, Innovation and Care (GAIC), which connects ICT innovation with challenges in care, demographics and migration in an international context. She became well-known with her research on the influence of ICT innovation on changing migration patterns in Africa. In her research, Van Reisen investigates the impact of ICT solutions for trauma, health care demand, migration and survival strategies in vulnerable groups. She received an NWO grant in 2015, and in 2016 she will start a research project in North Africa, financed by the EU. Furthermore, Van Reisen leads the Eritrea Expertise Center.
Management experience and credentials
Van Reisen is a member of the Dutch Advisory Council on International Affairs (AIV), where she is chair of the committee of development cooperation (COS). She also holds the chair International Relations, Innovation and Care at Tilburg University and is a member of the Governing Boards of Philips Foundation, SNV and TNI. Furthermore, Van Reisen is founding director of Europe External Policy Advisors (EEPA). In 2012, she received the Golden Image Award from the Liberian President Ellen Johnson – Sirleaf, for her work on peace building and development.