Bacheloropleiding Informatica in 2012 op 1e plaats volgens keuzegids Elsevier
According to the students, Leiden University is the second best broad university of The Netherlands.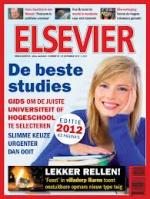 Seven Leiden bachelor studies - among which Informatica - are ranked on the first place when it concerns the satisfaction of the students. This is written in Elsevier's "studiekeuzegids" for 2012.