Institute of Anglo-American Law
Events
Some events organised under the auspices or with the support of the Institute of Anglo-American Law:
Europa Lecture Lord Mance (2016)
The Rt. Hon. the Lord Mance, Justice of UK Supreme Court, delivered Europa Lecture
17 and 18 October 2013 | two-day event on Anglo-American Law
The Leiden Institute of Anglo-American Law organised a special two-day event on Anglo-American Law.
The event commenced on Thursday 17 October with a lecture by Lord Hope of Craighead, former Deputy President of The Supreme Court of the United Kingdom. The title was 'Scots law's debt to Leiden'.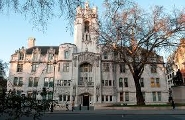 Leiden has a special place in the history of Scots law. For several decades, at a crucial stage of its development before the Union of 1707 when Scotland and England joined together to create the United Kingdom, it was to Leiden that many of those who were seeking to practice law in Scotland came to study. The law they took back with them to Scotland was the civil law of the ius commune, and the Scots system of private law is based on civilian principles. But it was never going be possible for Scotland to have a system of law that was entirely separate from the English common law. The lecture seeked to explore how its system became 'mixed' with the common law, and what it means to live a 'mixed system' today.
18 October - seminar and inaugural lecture
On Friday 18 October there was an inaugural lecture by prof. Olav Haazen . Prior to this there was a seminar. The title of the seminar was 'Facts and the Law in English and Dutch decision making. Do facts really matter?'

The title of the inaugural lecture was 'Between a right and a wrong. Ordinary cases, civil procedure, and democracy'.
Staff exchange (2011)
The Institute supports staff exchanges of Dutch and Anglo-American law faculties.
The staff exchange with Oxford in 2011 in Leiden dealt with the transnational interpretation of national law and included interesting debates on such things as the meaning of the concept of reasonableness and fairness in Dutch and other continental law, is considered a strange, maybe even dangerous animal by some English scholars and also by many English lawyers in practice.