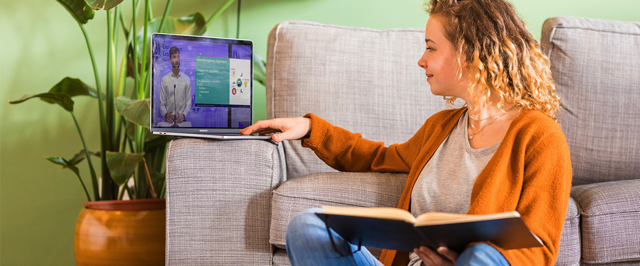 Study Information
Online Master's Week
Date

Wednesday 3 November 2021 - Friday 5 November 2021

Location

Online

Visit the Online Master's Week
Are you thinking about studying in The Netherlands and are you wondering what Leiden University has to offer? Are you already interested in a specific master's programme at Leiden University? Then simply join the Online Master's Week from Wednesday 3 till Friday 5 November, from the comfort of your own home. Find out which of our master's programmes taught in Leiden or The Hague suits you best! We're ready for your future!
The programme of the Online Master's Week will be announced at the beginning of October 2021.
What can you expect?
Watch live programme presentations, talkshows and join our Q&A sessions. Or choose from a wide variety of sessions with practical information on housing, visas, applications, admissions – and student life itself! Each live presentation consists of approximately 30 minutes of in-depth information and 10 minutes of Q&A. You can also ask questions at our Q&A sessions or at some of our talkshows.
The programme of the Online Master's Week will be announced at the beginning of October 2021.
Virtual Stands
Got questions before or after a presentation? Our professors and student ambassadors at the virtual stand at the online information market are ready to help.
Online information market
In addition to virtual programme stands, you will also find stands on the information market that are not directly related our study programmes. Here you'll find Leiden University Sports Centre, the Academy of Creative and Performing Arts and many other facilities. You'll also find stands with practical information on housing, visa and admission and application.
Opening hours:
Each virtual programme stand is open one hour before and two hours after each programme presentation.
Explore not just the cities of Leiden and The Hague but our faculties and classrooms too in one of our virtual tours. And our students are waiting to answer all your questions on student life and what it's like to study at Leiden University.
First-hand knowledge is just a click away. During the Online Master's Week you can chat with students and staff from a programme of your choice straight away!
Check out which presentations are going on in the 'Now Live' section. You might find a programme you would never have considered otherwise. Life is full of surprises!
How do I access the Online Master's Week platform?
You'll receive a confirmation mail immediately after registration. In this mail you will see the button 'Go to the Online Master's Week. Click on this button to see the sessions that you have chosen and an 'E-ticket' button linking to the online platform. This link will only be active from 08.00 on Wednesday 3 November. You will then be automatically forwarded to the Online Master's Week, where you can watch live presentations, visit the information market and chat to students and staff. You can't visit the Online Master's Week before 3 November.
Where on the platform can I see which presentations I've registered for?
Go to 'My programme' to see which presentations you've registered for. Please note: this timeline only shows your personal programme for that particular day. (So on 3 November you will only see your programme for 3 November . If you have registered for presentations on 4 or 5 November, you will see these on 4 and 5 November itself.)
What device can I best use to visit the platform?
We advise against using a mobile phone or tablet to access the platform. For the best user experience use a PC or laptop with Google Chrome as browser. Make sure you have the latest version of Chrome and that you have a stable network connection that isn't being used by others. Do keep your mobile close to hand: you can submit questions during the live presentations in a separate app.
What should I do if I can't see the presentations on the platform?
First check that your computer has a stable connection. If you still can't see any presentations, refresh the page or reopen the link from your confirmation mail. Otherwise contact the helpdesk via the chat on the platform.
Visitors from certain countries may find that the streaming tool that we are using for the presentations is blocked by their government. In that case, they won't be able to see the presentations.
Can I watch a presentation that I haven't registered for?
Yes! Go to the 'Now live' page on the platform: here you will see all the presentations that are currently being given. You can watch these presentations without having to register first.
Can I watch presentations later?
Don't worry if you don't manage to watch all the presentations you wanted to watch during the Online Master's Week, or if you'd like to watch a presentation again. You'll receive an email with a link to all the recorded presentations within two weeks of the Online Master's Week.
I haven't received a confirmation mail after registration. What should I do?
No worries! Study Line can help! Email them at studielijn@leidenuniv.nl and they will send you the confirmation mail as quickly as possible.
Questions?
Do you have any questions about the Online Master's Week? Please contact the Study Line. You can call during office hours or send an email. We are happy to answer your questions.
Study Line
Leiden University
+31 71 527 1111
studielijn@leidenuniv.nl