Alumni event
Inspire the Students
Date

Friday 25 September 2020 - Monday 28 September 2020

Location

Kaltura Live Room

Room

Online
Get ready for the third edition of Inspire the Students! An annual event that connects past and present LUC students together to discuss everything about life after LUC - careers, internships, and studies. Are you curious about the different paths that alumni have pursued, how they have dealt with setbacks or how they look back on their time at LUC? Then don't miss out!
This year's edition will be a bit different than previous years. Over the course of four days alumni will share back their stories about life after graduation, their thoughts on how to apply for the right job, provide tools on how to efficiently work in groups and more! Each session will be hosted online and will present the opportunity to connect with alumni and ask questions. The complete programme of Inspire the Students consists of six inspiring sessions which will be published in due course. It's up to you to decide which session(s) you would like to sign up for. Registration is open now!
Teh different sessions take place on September 25, 26, 27 and 28 for Inspire the Students.
Prepare to be inspired! #getinspired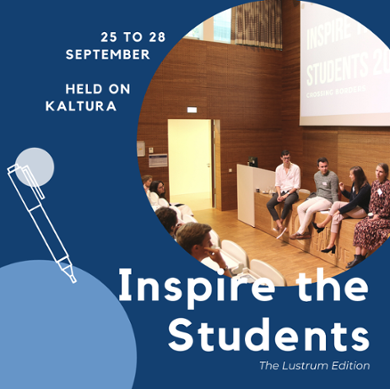 Sessions
Friday September 25 17:00 - 18:30 CET
Does it sometimes seem like everyone around you has got it all figured out, and that you're the only one without that summer internship? You're definitely not alone. This session will focus on the moves LUC students make during their time at the college and shortly after graduation to orient themselves in further studies or the working world. Everyone finds their path eventually, though maybe in ways they didn't originally expect...
This panel discussion is tailored specifically towards current students at LUC as well as recent graduates. The discussion will surround the various paths students may take directly after graduation, ranging from completing internships and master's programmes to becoming a climate activist, as well as the choices they might make while still at LUC to prepare themselves for this.
Speakers:
Sam Gaunt 2018 (IJ)
Jacinta Hamley 2019 (EES)
Francesca Bruni 2020 (GPH)
Paula Echeverría Suárez 2020 (HD)
Saturday September 26 16:00-17.30 CET
Not sure if you want to pursue a career in the public or private sector? Or you are aiming for one of these sectors but want to know more about what it's like working in it? LUC alumni will talk about their experience of working and building a career in the public and/or private sector, and what to keep in mind when trying to make the decision. During the panel discussion alumni will share how they made the decision for a specific sector and their reflections on working in it. Students and alumni can join in on the Q&A session and understand the different work ethics of both sectors.
Speakers:
Anas Milly 2014 (WP)
Tijmen Nanninga 2016 (SUS)
Lauke Stoel 2017 (GED)
Reinout Huizer 2016 (ID)
Saturday September 26 16:00 - 17:30 CET
Together with Anne-Mieke Thieme and Cris van Eijk, two of the initiators of LUC's Wellness Week we take a look at mental health during and after your studies. We will discuss the importance of actively thinking about well-being, why you should consider self-care and how to do these things. During the event there is space to share personal growth, experiences, and tips & tricks.
Speakers:
Cris van Eijk 2017 (IJ)
Anne-Mieke Thieme 2016 (HI)
Sunday September 27 16:00-17:30 CET
You needed to declare your major by end of first year. But when graduation rolls around, you realise that your career ambitions have shifted to something outside of your major. Perhaps an internship didn't turn out how you expected, or certain courses dampened your passion for the occupation you thought you wanted to pursue. So, now you're in a tough spot, where your degree doesn't quite line up with what you want to do. The upshot? There's no need to panic. During this panel discussion alumni share their story on how their major has led to a totally (unexpected) outcomes and how they
figured out if it was the right decision to be making. Students and alumni are welcome to join the Q&A session to understand that selecting a major does not lead to one specific direction.
Speakers:
Joanna Ruiter 2016 (EES)
Muhammad Ali Abdulvasiev 2018 (GED)
Jonas Le Thierry d'Ennequin 2017 (HD)
Darian von Finckenstein 2018 (GED)
Sunday September 27 16:00-17:30 CET
This session will be given by Onno Blom (Class of 2017, GED), who is currently Head of Online Recruitment at Picnic. He will share a framework on how to think about building a meaningful and impactful career, how to identify your dream job, what types of organizations to join, and how to 10X your chances of getting hired at any job. Furthermore, when you apply for an internship or a job, most likely you will have to send in your CV. What should be included in your CV, what are do's and don'ts? When asking for advice or via google many you will find many contradicting advice. During this workshop you will learn about writing a cv (from a Dutch perspective) and will these contradictions be discussed so you will be able to write a CV that reflects your personal profile best.
Speakers:
Onno Blom 2017 (GED)
Dianne Karijkdijk FGGA Career Services
Monday September 28 16:00-17:30 CET
Whether you're solving global challenges or putting together IKEA furniture: it'll be easier when you effectively collaborate with others. It's a skill you'll get better at through trial and error. Luckily, studying at LUC gives (or gave) you plenty of opportunities to practice. Yet, we all recognize that even with plenty of practice, working in groups can sometimes be difficult and frustrating. Add the extra challenge of (partly) collaborating digitally, and it might seem easier to just quickly divide the tasks and work independently. But don't give up just yet!
After graduating from LUC in 2016, a master's in Sweden and a brief experience in the world of corporate sustainability, I (Ella) am now working for GroupMapping: a consultancy firm that specializes in designing effective collaboration. We help our clients create better strategies, run more successful projects and develop 21st-century leadership skills. So many of the things I've learned about collaboration this past year would have been incredibly useful to have know during my time af LUC and previous jobs. That is why, during this interactive workshop, my colleague and I would love to share some of GroupMapping's tips, models and cases with you!
So, are you interested in group dynamics? Want to learn ways in which to achieve better results as a group or team? Get tips on how to collaborate effectively online? And are you ready for a fun and interactive workshop? Please join our session on Monday September 28th, at 16.00!
Speakers:
Ella Verver 2016 (ID)
Tom Vuorinen GroupMapping