Online Career Week
Date

Monday 11 May 2020 - Friday 15 May 2020

Location

Online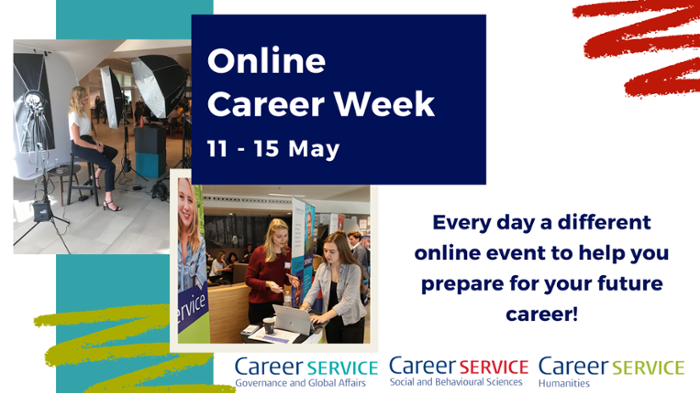 Register now
The Leiden University Career Services advise students and recent graduates on the transition from study to first job and offer guidance on study choice and career questions in the bachelor and master. We want to continue doing this in these unpredictable times and that is why we want to invite you to our Online Career Week from 11 to 15 May. Register now.
Programme
The Online Career Week is organised by the Career Services of the Faculty Governance & Global Affairs, Humanities and Social and Behavioural Sciences. Every day of this we will organise one or several online events. You can find the schedule below, all times are in CET.
Monday 11 May
15.00-16.00
Live Webinar CV writing (ENG)
17.00-18.00
Live Webinar with alumna Marliese Vollebregt (ENG, JINC) -
Working with talent
Tuesday 12 May
14.00-15.00
Online Q&A with interns (ENG)
17.00-18.00
Opgenomen webinar alumna Judith Laanen (NL) -
Hoe word je freelance journalist/tekstschrijver/copywriter?
Wedneday 13 May
15.00-16.00
Live webinar met alumnus Luuk Wijnhold (ENG, Unilever) -
Working for a multinational
17.00-18.00
From volunteering to a job (ENG, The Hague Volunteering Network)
Thursday 14 May
15.00-16.00
Online Career Time (ENG & NL)
17.00-18.00
Live webinar met alumna Juliette van den Dorpel (NL, Van Dooren Advies) -
Verbeteren van communicatie, sponsoring en fondsenwerving binnen Kunst & Cultuur
Friday 15 May
11.00-12.00
Finding a job for internationals in The Hague region during the COVID-19 crisis (ENG)
14.00-15.00
Online Career Time (ENG & NL)
When you apply for an internship or a job, most likely you will have to send in your CV. What should be included in your CV, what are do's and don'ts? When asking for advice or via google many you will find many contradicting advice. During this workshop you will learn about writing a cv and will these contradictions be discussed so you will be able to write a CV that reflects your personal profile best.

The workshop is given by career advisor Atse Fokkens, who has a background in recruitment.
Live Webinar with Marliese Vollebregt (ENG, JINC) - Working with talents
Would you like to spend your time helping children to prepare for their first step into the labour market? JINC believes that - regardless of any kind of background – children have talents which they can apply later on in a fulfilling job. Therefore, JINC joins hands with organisations and schools to make this mission come true.
Marliese Vollebregt (25) started studying International Studies in 2012 at Leiden University . She specialized herself in the region Latin America and Spanish language, which made it possible for her to study abroad for one semester in Santander, Spain. She also joined the Honours Programme. After her bachelor's, she continued studying two masters: International Relations and Public Administration. During this period she grabbed another chance by doing an internship at the embassy in Prague.
She finds it important to work in an organisation with ambitions and ideals. "At JINC I have found a various and dynamic job with plenty of possibilities to develop myself. But it's also a place where I have the opportunity to actually make a difference to the world."

Her position as project employee is quite diverse: she maintains contact with organisations and schools, organizes projects and events and recruits new organizations and sponsorships.

During this webinar Marliese will tell more about her job at JINC and the mission of this non-profit organisation. This way you can discover if working for an organisation like JINC could be something that fits your interests too.
(NL) Eerder opgenomen: webinar met Judith Laanen - Hoe word je freelance journalist/tekstschrijver/copywriter?
Wil jij ook weten welke overeenkomsten een studie in de Geesteswetenschappen heeft met de journalistiek of copywriting? Hoe je freelance journalist of tekstschrijver wordt? Hoe je van idee naar artikel gaat en dat op een redactie 'verkoopt' tijdens een redactievergadering? Waar moet je rekening mee houden als je wil gaan freelancen ('hallo boekhouding')? Kortom: hoe pak je dat freelance journalist/tekstschrijver/copywriter worden aan? Freelance (radio)redacteur Judith Laanen (alumna Engelse taal en cultuur/Journalistiek en Nieuwe Media, nu werkzaam bij o.a. BNR, RTL Z) legt het je uit in deze webinar.
Laanen (1986) studeerde Engelse taal en cultuur en volgde de minor Journalistiek en Nieuwe Media. Na haar afstuderen in 2011 rolde ze de internetredactie van NRC Handelsblad op, was ze muziekjournalist voor VPRO's 3voor12, hobbelde ze nog een tijdje bij Leids Universitair Weekblad Mare rond en nu werkt ze als bouwjournalist bij BNR Nieuwsradio en als online redacteur bij RTL Z. En ze is al negen jaar op één uitzondering na nergens in dienst geweest. 

Live webinar Luuk Wijnhold (ENG, Unilever) - Working for a multinational
As a Dutch-British multinational, Unilever is focused on a wide range of consumer goods, such as food, cleaning agents and personal care products. In this webinar Luuk Wijnhold (alumnus BA History and MA Economic History) will tell you more about the way he experiences working for this interesting organisation.
"After I graduated in 2013, e-commerce became a discipline in which I have specialized myself. A choice consciously made, since I'm fascinated to understand the process of what happens before and after someone hits the purchase button in a webshop. When I completed my master's, I started a traineeship at PostNL. Currently I work at Unilever."
The entrepreneurial, innovating and creative e-commerce has Luuk's full attention and definitely fits his passions, though it's a surprising subject for someone with an economically historical background. Still, everyday he benefits from the skills he obtained throughout his time as a student. He is looking forward to inform you about his study experiences and career path that he walked after graduation.
(NL) Live webinar: Juliette van den Dorpel (Van Dooren Advies) - Verbeteren van communicatie, sponsoring en fondsenwerving binnen Kunst & Cultuur
Ben je benieuwd of het geven van strategisch advies rondom fondsenwerving wat voor jou is?
Juliette van den Dorpel vertelt hoe zij non-profitorganisaties ondersteunt, met name in de culturele sector. Zo adviseert zij onder meer musea, theaters, erfgoedinstellingen, muziekgezelschappen, muziekfestivals, poppodia, filmfestivals en bibliotheken.
Volgens Van Dooren advies zijn cultuurmanagers met een frisse en creatieve blik op beleid, relatieontwikkeling, ondernemerschap en met de drive om de organisatie waarvoor zij werken financieel sterker te maken, hard nodig. Kortom, de arbeidsmarkt voor fondsenwervers is gunstig.
Juliette deed in Groningen een BA Kunsten, Cultuur en Media met de discipline kunstbeleid en management. Daarna volgde ze de MA Kunst, Cultuur en Politiek in Amsterdam. Deze master rondde zij af met een onderzoek naar langdurige partnerschappen tussen culturele organisaties en bedrijven. In Groningen was zij naast haar studie als bestuurslid van Stichting Groninger Studenten Cabaret verantwoordelijk voor de fondsenwerving. Deze ervaring en interesse voor het vak leidde in 2018 tot een stage en vervolgens tot een fulltime baan bij Van Dooren Advies.
Are you interested in doing an internship in either the public, private or NGO-sector? Join us on the 12th of May in our Q&A with Interns via Kaltura during the Online Career Week! You will be able to ask all your questions concerning: the application process, the intern organisations, working from home in the current circumstances and general information about the internship! Interns –studying at Leiden University- from the following organisations will be present:

* Johanna Rick – Civil Society Intern at the World Economic Forum in Geneva
* Bas van Beurden – Political Affairs Intern at the Permanent Mission of the Kingdom of the Netherlands to the United Nations in New York City
* Olivia Cholley – Security Intern at Phillips in Amsterdam

Are you looking for extra ways to broaden your CV? Did you know that even during this challenging public health crisis, there are still ways you can engage in volunteering activities while maintaining social distancing rules and protecting your safety? This presentation will help you better understand the value of volunteering in the age of COVID-19 for building relationships and career opportunities, as well as for gaining this valuable "work experience" all employers are looking for in new graduates.
During this presentation you will discover:
· volunteer opportunities available during the corona crisis;
· how to leverage volunteering for career success;
· hidden career opportunities;
· strategies to adopt when considering at which organisation to volunteer;
· ways to build confidence and help the community;
Tetyana Benzeroual, BSc (Hons) Psychology, PGCert Event Management, has lived in The Hague for five years. She started her career path in The Netherlands as a volunteer and later was hired as a project manager of Volunteer The Hague, a project that connects internationals with meaningful volunteer opportunities at local non-profit organizations. Tetyana is a true citizen of the world who lived, studied and worked across North America and Europe.
Are you a student of the faculty of Governance and Global Affairs, Social and Behavioural Sciences or Humanities? And would you like a professional to look at your CV or LinkedIn profile?

Drop by Career Time during the Online Career Week and let's discuss your future plans and help you get there!
Please register for a 10 minute session to meet a career advisor online. Submit your CV in pdf or add a url to your LinkedIn page.

After registration you will be informed on how you will be reached.
Are you an international student looking for the next step in your career? Join The Hague International Centre for a seminar about work and employment. Find out about the key economic clusters of the region and the opportunities for internationals. Gain practical information on job hunting in the Netherlands. Learn about how the labour market and economic state of The Hague is affected by the COVID-19 or Corona crisis. Which sectors are still recruiting during the crisis?

Gerko Visée works as adviser for The Hague International Centre, the point of contact for international staff in The Hague region. He aims to make The Hague a better place for internationals. He hopes to share his knowledge on the international clusters of The Hague to help you find new career opportunities. Before working for The Hague International Centre, Gerko worked with refugees across the Netherlands and for an embassy abroad. He has studied political science and religious studies in Amsterdam and Middle Eastern politics in Durham, United Kingdom.
Leiden University Career Zone
Did you know that there is already a lot of information and tips about preparing yourself for the labour market online? Visit our website Leiden University Career Zone, here you will find: