Lecture
CANCELLED: Manipulation, Misinformation, and Opinions: A (Legal) Taxonomy of Disinformation
Date

Friday 13 March 2020

Time

Location

Room

A0.28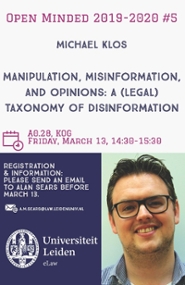 This lecture is cancelled.
For the 5th Open Minded session of this academic year, Michael Klos, a researcher and lecturer at the Department of Jurisprudence at Leiden Law School, will present his research.
Disinformation is seen as one of the major threats to the democratic decision-making process. Measures such as independent fact-checking are proposed to counter the harmful effects of disinformation. Michael Klos will discuss how different definitions of disinformation relate to democratic and rule of law principles.
Open Minded is a lecture series organized by eLaw (Center for Law and Digital Technologies), wherein professionals working in the domain of law and digital technologies are invited to present their research, perspectives, or ongoing work.
All are welcome to attend. Please email a.m.sears@law.leidenuniv.nl if you plan to attend so that we can ensure that we have sufficient space and make accommodations if necessary.