Academic ceremony
445th Dies Natalis
Date

Friday 7 February 2020

Time

Location

Pieterskerk
Pieterskerkhof 1A
Leiden
Programme Dies Natalis ceremony
The Dies Natalis lectures will be delivered by Professor Bibi van den Berg, professor of Cybersecurity Governance and by Professor Aske Plaat, professor of Data Science.
During the ceremony, a honorary doctorate will be conferred to Professor Lungisile Ntzebeza, holder of the AC Jordan Chair in African Studies at the University of Cape Town. He is also the holder of the National Research Foundation (NRF) Research Chair in Land Reform and Democracy in South Africa. Honorary Supervisor is professor Jan Bart Gewald, professor of History of Africa, Faculty of Humanities. The Dean of this Faculty is professor Mark Rutgers.
Musical interludes will be performed by the recently founded Practicum Musicae Orchestra. Professor Carel Stolker, Rector Magnificus and President of the Executive Board, will close the ceremony. During the reception following the official ceremony, there will be the opportunity to congratulate the members of the University's Executive Board, the Dies lecturers, the Honorary Doctor, his Supervisor, the Faculty Deans, and their partners. The reception will start at approximately 17:00 hrs.
Simultaneous interpretation is available in English and the ceremony also can be viewed live on this website (livestream).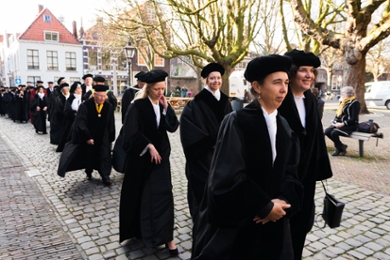 Procession of Professors
Professors are cordially invited to participate in this procession, which will depart from the Academy Building at 14:55 hrs. For this procession academic gown and cap are compulsory. If you are not participating in this procession, we kindly request that you be seated in the church by 14:50 hrs. The ceremony starts at 15:00 hrs sharp.