Lecture | LUCIS What's New series
Tifinagh: The brand-new age-old traditional Berber script
Date

Thursday 28 November 2019

Time

Explanation

Free to visit, drinks after

Series

Location

Room

1.47
Any person walking around in the modern center of Moroccan cities like Rabat or Casablanca will notice that signs are in three scripts (and languages): Arabic script, Latin script, and a third script, Tifinagh. In Morocco, Tifinagh has become the official way of writing Berber (or Amazigh) in the early years of the 21st century. The script is presented as the age-old traditional way of writing this language – evidently an invention of tradition, dating back to the 1970s. This is not to say, however, that the script is just a twentieth-century creation.
In this talk, Maarten Kossmann will provide an overview of the history of this script from its origins in the so-called Libyco-Berber inscriptions of Antiquity to its modern uses, both as a traditional way of communication among the Tuareg in the central and southern Sahara, and as a recent marker of identity among Berber speakers in the Maghreb.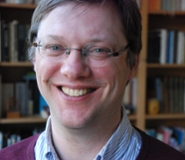 About Maarten Kossmann
Maarten Kossmann is professor of Berber Studies at Leiden University. Since obtaining his PhD in 1994, he has extensively worked on the linguistic structure and history of the Berber languages, especially, but not exclusively, in eastern Morocco. He has published ten books and numerous articles on these subjects.