Festival | Middle Eastern Culture Market 2019
Silent Disco
Date

Saturday 30 November 2019 - Sunday 1 December 2019

Location

Rijksmuseum van Oudheden / National Museum of Antiquities
Rapenburg 28
Leiden

Room

Tempelzaal | Behind the Egyptian temple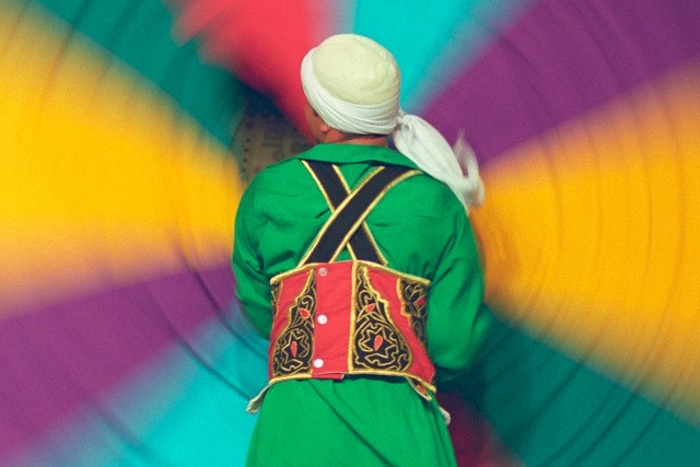 During the Middle Eastern Culture Market, we have a silent disco where you can zone out and enjoy contemporary and traditional music from the region. Put on one of the headphones and explore all the different music styles.
Playlist Arabic contemporary
1. "3 Daqat" (3 Heartbeats), Abu & Yousra, 2017
Abu is a young Egyptian singer/songwriter whose breakthrough came with the song 3 Daqat on which he collaborated with Egyptian icon Yousra. Yousra has been a famous actress and singer since the 1980's in Egypt and the Middle East. She is especially famous for all her acting work in Ramadan TV shows and her role in the film adaption of the book 'Yacoubian Building' by Alaa el Aswany in which she played a restaurant singer and sang a beautiful rendition of the famous song 'La Vie en Rose'.
2. "Taala Tchouf" (Come watch), Balqees, 2019
Balqees' excellence goes beyond her artistic and musical creativity; she excels in reflecting her humanitarian care for women rights issues. Balqees works closely with UN Women to push for young women's entrepreneurship in the region and to advocate for the rights of women survivors of violence, with a particular focus on ending child marriage.
3. "Dabeekeh" (refers to the Dabkeh), 47Soul, 2015
47SOUL is an Electro Arabic Dabke (Shamstep) band formed in Amman Jordan in 2013. The members are rooted in Bilad Al-Sham, spanning the divides from Amman to the Galilee to Ramallah and the rest of the Palestinian Diaspora. This new sound of 47SOUL has rapidly amassed fans in the Arab World and Europe by blasting the electric Arabic Dabke sound through underground music scenes. Their lyrics, mixing Arabic and English, call for celebration and freedom in the struggle for equality, inside Bilad Al Sham and throughout the world.
4. "Hijabi" (wrap my hijab), Mona Haydar, 2017
Mona Haydar is an American Syrian rapper who went viral with her protest song Hijabi (wrap my Hijab) in 2017. The song had a prominent place in the Billboard list ' Top 20 Best Protest Songs of 2017' and scored high on the 'Top 25 Feminist Anthems' that same year. Mona developed her sound which is deeply rooted in her intersectional identity and sensibilities.
This playlist is created by Anne de Groot
Playlist Afghan and Persian music
1. "Dara Badara Hawai Paghman Badara" (Afghan; Dari), Nashenas
Dr. Mohammad Sadiq Fitrat (1935-present), known by his artist name Nashenas, is a critically acclaimed Afghan musician who has been active since the 1950's. His name translates to 'Unknown', a name he used because his conservative family was not accepting his musical ambitions. This song is an ode to the region of Paghman, close to Kabul, known for its historic royal gardens. "Hawai Paghman" translates to "the air of Paghman". The Taliban and consorts have destroyed all original recordings of his music. Nashenas lives in England nowadays.
2. "Begzar Ta Begeryam" (Afghan; Dari), Ahmad Zahir
Ahmad Zahir (1946-1979) is widely accepted as the greatest musical hero in Afghan history. He was one of the few to mix Western influences through traditional (Afghan and Indian) sounds, and was the first to popularize this mixed sound through implementing pop and rock elements. His songs were often about hope, freedom and love. "Begzar Ta Begeryam", translating to "let me cry", is about being lovesick from separation, a recurring thematic in his songs.
3. "Shabaah Hamash" (Afghan; Dari), Naim Popal
Naim Popal (1954-present) is an Afghan musician who gained recognition from the age of 18, after which he quickly grew to stardom. He moved to Iran in 1975 for its thriving music scene, with great success, but left for the United States in 1979 due to the Iranian revolution. This is a recent song of his which exemplifies a trend of Afghan musicians replacing traditional instruments like tabla's, sitars and harmoniums for electronic compositions.
4. "Man Amaadeh-Am" (Iranian; Farsi), Googoosh
Faegheh Atashin (1950-present), known as Googoosh, is the most iconic female pop culture icon of Iran who's pinnacle of fame took place from 1970-1979. Not only was she a huge music star, she also was an accomplished actor and a fashionable trendsetter for young Iranian women. Following the Iranian Revolution of 1979, she did not perform anymore due to the implemented ban on female singers, up until 2000 when she migrated to Canada. She still performs nowadays at the age of 69. This song, "Man Amaadeh-Am" translates to "I have come (for you)", is about the devotion of love.
5. "Chera Nemiraghsi" (Iranian; Farsi), Viguen
Vigen Derderian, musical alias Viguen (1929-2003) was known as the King of Iranian Pop. He was of Iranian-Armenian ethnicity and sang in both languages, and rose to stardom at a young age through mixing Western influences with Iranian vocals. Viguen moved to the United States in 1971. He kept performing in Iran yearly until the ban on pop music after the Iran Revolution in 1971. "Chera Nemiraghsi", which translates as "Why don't you dance?", is about a woman he admires.
5. "Zargari" (Iranian; Farsi), Hassan Shamaezadeh
Hassan Shamaezadeh (1943-present) is a singer and componist from Iran. He composed for the likes of Googoosh amongst others. Hassan Shamaezadeh played with orchestras since his youth, and is notable for his skill of being able to play quarter notes on the saxophone. He experienced great popularity in the mid 70's in Iran, and has been active ever since. This song is about the Zargari language, one of the last Indo-Aryan languages being spoken in certain parts of Iran. The language is decreasing in prevalence.
This playlist is created by Rshaart Aumaj
Playlist popular Turkish music
1. "Fırtına" (The Storm), Yeni Türkü. Composed by Derya Köroğlu, 1988
Yeni Türkü (New Türkü) is a Turkish band. The group has held concerts and recorded a number of albums since forming in 1978. Their musical style is characterized by a combination of traditional Turkish and modern musical instruments, including the oud, baglama, kemenche, qanun and guitar.
2. "Sarı Odalar" (Yellow Rooms), Sezen Aksu. Composed by Sezen Aksu, 2000
Sezen Aksu is a Turkish pop music singer, songwriter and producer who has sold over 40 million albums worldwide. Her nicknames include the "Queen of Turkish Pop" and Minik Serçe ("Little Sparrow"). Her work with Tarkan resulted in continental hits like "Şımarık" and "Şıkıdım". In 2010, NPR named her as one of the "50 Great Voices" of the world.
3. "Gül Pembe", Baris Manço. Composed by Ahmet Güvenç, 1981
Mehmet Barış Manço (1943-1999), known by his stage name Barış Manço, was a Turkish rock musician, singer, songwriter, composer, actor, television producer and show host.[3] Manço was a pioneer of rock music in Turkey and one of the founders of the Anatolian rock genre. He remains one of the most popular public figures of Turkey.
4. "Islak Islak", Cem Karaca, 1991
Muhtar Cem Karaca (1945-2004) was a prominent Turkish rock musician and one of the most important figures in the Anatolian rock movement.[1] He worked with various Turkish rock bands such as Apaşlar, Kardaşlar, Moğollar and Dervişan. With these bands, he brought a new understanding and interpretation to Turkish rock.
5. "Ölürüm Sana" (I'd die for you), Tarkan, 1997
Tarkan Tevetoğlu is a Turkish singer-songwriter. Since the early 1990s, with the successful sales of his albums, he has been a prominent figure of the Turkish pop music, famous in both Turkey and Europe.
6. "Çatapat" (Firework cracker), Tahribad-ı İsyan, 1997
The Hip Hop band consists of the rappers Slang, Zen-G and V.Z who met each other during school in the 2000s. Their music was shaped by the impact of urban renewal works on the residents of Sulukule – a Romany neighborhood in Istanbul. They first got recognition thanks to the short film "Wonderland" (2013).
This playlist is created by Gaye Eksen
Playlist Arabic traditional music
1. "Wasla Maqam Hijazkar: Sama'i Shatt 'Araban" (Instrumental overture of the wasla [suite] in maqam Hijazkar), CD Arabesques Vocales (Vocale Arabesques), Harmonia Mundi, Institut de Monde Arabe, nr. 1015, 1995.
The wasla or musical suite is a compound form consisting of a succession of instrumental and vocal compositions alternated by improvisations that all have the same maqam or musical mode. This type of musical suite is found in the countries of the Mashriq, the Eastern part of the Arab world, notably Egypt and Syria.
2. "Wasla Maqam Hijazkar: Muwashshaha Ya Ghazalan" (Strophic sung poem in classical Arabic), Harmonia Mundi, Institut de Monde Arabe, nr. 1015, 1995.
Soloist Aïcha Redouane accompanied by the Adwar-ensemble sings the muwashshaha Ya Ghazalan, composed by the Egyptian composer Muhammad 'Uthman (1855-1900) with the following text:
'Oh Gazelle, with the kohl-black eyes
My love for you has captured my heart
You visit me and then disappear
Like a star rising and setting.'
3. "Nuba al-Hijaz al-Mashriqi: Twishya 1" (Moroccan Andalusian Music), CD al

Á

la al-Andalusiyya (Moroccan Andalusian Music), Omar Metioui Ensmble, 1999.
This twishya is a rhythmical instrumental piece used as a prelude to this nuba in tab' (musical mode) al-Hijaz al Mashriqi. The nuba is the term of the musical suite in the Maghrib, or Western part of the Arab world. Like its Eastern counterpart, the wasla, it also consists of a succession of instrumental and vocal pieces all set in the same musical mode, called tab' in the Maghrib (Morocco, Algeria, Tunisia and Libya. The music of the nuba belongs to the cultural heritage of al-Andalus or Spanish Andalusia.
4. "Ya Racha Fattan CD Alcantara" (The Bridge), ) Amina Alaoui, Auvidic Ethnic, B 6872, 1998.
This strophic poem is an anonymous traditional song from al-Andalus or Moorish Andalusia, performed by the Moroccan vocalist Amina Alaoui who is accompanied by lutist Henri Angel and percussionist Bijane Chemirani on the daff (frame drum).
'O my fascinating gazelle, flexible as a twig, have pity with the one who has fallen in love, because he is desperate!
Victim of his longing, emaciated by lovesickness and the bewitchment of a lover, who can't reach his beloved:
She who has rosebud cheeks, a shining star, and joyous nightingales sing her praise,
Keep your promises, O my beautiful crescent moon; don't forsake our agreement, in the name of the Eternal One!'
This playlist is created by Dr. Anne van Oostrum, musicologist and Arabist at the University of Amsterdam
Playlist North African music
1. "Zina" (refers to a name that translated as "beautiful woman"), Babylone, 2014
Babylone is an Algerian musical band established in 2012. Their single "Zina" saw a huge success winning "Algerian Song of the Year 2014" with the band itself winning "Algerian Band of the Year". Babylone sings mainly in Algerian Arabic in a musical style known as "dziri style" which refers to Algerian world music with various international music influences.
2. "Lik" (To you), Oum El Ghait Benessahraoui, 2015
Moroccan singer-songwriter Oum is one of the rising stars in the North African musical heavens. With her wonderful, clear voice that emanates both romance and reflection, she gracefully bridges Moroccan gnawa with jazz, R&B, soul, gospel and even Cuban son.
3. "Imik Si Mik" (Little by Little), Hindi Zahra, 2010
Hindi Zahra is a Moroccan singer, songwriter, musician, painter and actress. Born in Southern Morocco to a Berber family, she grew up to the sound of the big voices of raī and chaâbi, as well as Moroccan rock and roll, Sahelian blues, African folk, groove and reggae. The singer whose name means both "flower" and "chance" cannot escape a passion for musical styles in all their diversity.
4. "Fine Ghadi Biya Khouya" (Where Are you Taking Me Brother), Nass El Ghiwane
The repertoire of Nass El Ghiwane contains self-composed poetry in the Melhoun style set to venerated musical forms, such as Sufi chants and Zaouias litanies. The band members sing and play various string and percussion instruments, including guembri, lute, bendir, derbouka, daadou", ta'rija and tbila. Strikinly in post-colonial Morocco, the lyrics explored contemporary political chicanery and injustice.
5. "Lghoul" (Demon, specifically one who preys upon the dead

),

Muslim & Dj Van
Moroccan rapper Mohammed El Hadi Mzouri, known by his stage name Muslim, does not shy away from sensitive topics such as drug abuse, terrorism, prostitution, unemployment and poverty, and calls openly for government intervention to help solve social and economic problems in his country. Edgy and socially conscious, he attracts fans of all ages and backgrounds with clean language and poetic metaphor.
This playlist is created by Fatima El Boujdani
Playlist Turkish classical music, music inspired by Turkish classical music and modern Turkish classical music
1. Îtrî, "Segâh Yürük Semai. Tûtî mûcize-gûyem ne desem lâf değil" (A vocal part in the mode Segâh and the rhythmic pattern Semai. Miracle speaking parrot, what I say is no idle talk).
The famous Ottoman composer Buhurizade Mustafa Îtrî (1640-1712) set a poem of the Ottoman poet Nefî (1572-1632) to music. This piece of music is still very popular and many modern artists, such as Zeki Müren (1931-1996) and rock singer Barış Manço (1943-1999), recorded versions of it.
2. Dimitrie Cantemir, "Der makâm-i Muhayyer uşûleş Muhammes" (In the mode Muhayyer and the rhythmic pattern Muhammes).
Dimitrie Cantemir (1673-1703) lived in Istanbul first as prisoner later as an envoy. He was the son of the ruler of Moldavia. He was the first to design a notation system for Ottoman music and collected 350 pieces.
3. Cemile Sultan, "Andante con moto – poco piu moss", Prague Symphony Chamber Orkestra, Istanbul, Kalan, 2004.
Music composed in a style that is a mixture of classical Ottoman and Western music produced at the Ottoman court.
4. Ruhi Su, "Bana seni gerek seni" (I need you, you), Yunus Emre, Istanbul, Ada Müzik.
Former opera singer Ruhi Su (1912-1985) was probably from Armenian descent. After he was convicted for communist sympathies, he embraced Turkish folk music, creating a mixture between Western music and traditional Turkish folk music.
5. Fazıl Say, "Bu bizimki" (This is ours).
A poem by Cemal Süreya (1931-1990) set to music by Fazıl Say (1970-) one of the most well-known composers of modern classical music in contemporary Turkey.
This playlist is created by Dr. Petra de Bruijn, lecturer of Turkish Studies at Leiden University