Festival | Middle Eastern Culture Market 2019
Het Zingend Hart goes Arabic
Date

Saturday 30 November 2019

Time

Series

Location

Rijksmuseum van Oudheden
Rapenburg 28
Leiden

Room

Tempelzaal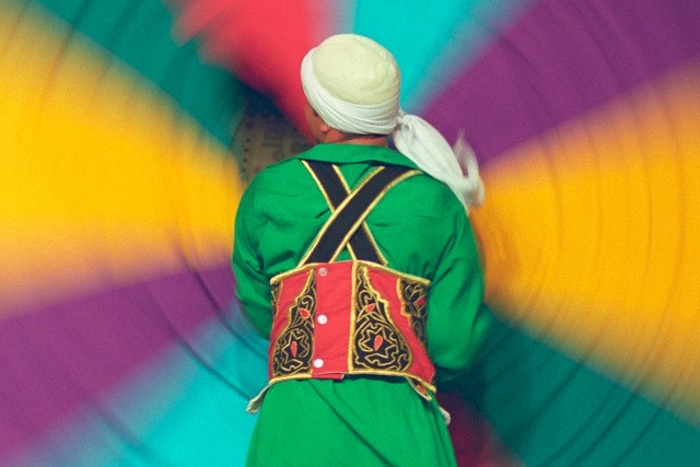 Het Zingend Hart
Het Zingend Hart is a Leiden-based mixed SATB chamber choir conducted by Guido van Swieten. The choir covers a broad repertoire of a cappella choir music from various cultural traditions and in many languages. Het Zingend Hart is renowned for its performances at unusual locations and occasions and pays a great deal of attention to the staging of its concerts. Professional actors and directors are often involved in helping realise a theatrical show that stimulates all senses. More information at hetzingendhart.nl.
Mohamad Alsamna
Het Zingend Hart will perform three traditional Arabic songs. They are very excited to be accompanied by singer and ud player Mohamad Alsamna, who is part of the Catching Cultures Orchestra.
Songs
Lammaa Badaa Yatathannaa (arr. Shireen Abu-Khader)
Lammaa badaa yatathannaa is a popular Arabic mūwashshah. The mūwashshah, a strophic song form, originated in Cabra (near Córdoba) during the Muslim rule in Spain (until 1492). In the many centuries since then, this song type has spread throughout the Arab world, where it survives in oral tradition. The source of Lammaa badaa yatathannaa is uncertain; however, it may have originated in Egypt as late as the nineteenth century. The song is in the samai rhythm, a complex rhythm used for Arab classical music and notated in 10/8. The melody, based on the maqām nahawand (equivalent of the Western harmonic minor scale), is commonly used for composing or improvising Arab music.
Fōg Elnā Khel (arr. Salim Bali)
In 1966, Aleppo's Armenian Apostolic Church choir commissioned Salim Bali to arrange a number of Arab pieces, including Fōg Elnā Khel. Although this song belongs to the Iraqi folklore, it is probably more commonly performed in Syria than in Iraq. It is a fixture in the repertoire of traditional Syrian singers, who perform a Syrian version of the lyrics.
Yal Asmar Ellon (arr. Edward Torikian)
Yal Asmar Ellon is a popular traditional song from Aleppo in northern Syria. It is part of the repertoire of songs called al qudūd, or more specifically qudud halībiyya (from Aleppo). This kind of art is connected to muwashshahat, a song form developed in Andalusia. This song originated in the nineteenth century, the era of the famous singer-songwriters of Aleppo.