Festival | Middle Eastern Culture Market 2019
Hafez and his poetry
Date

Sunday 1 December 2019

Time

Series

Location

Rijksmuseum van Oudheden
Rapenburg 28
Leiden

Room

Trajanuszaal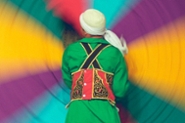 This event is in English
This poetry reading session focuses on the poetry of Shams al-din Mohammad Hafez from Shiraz (d. 1390 AD), the most celebrated Persian poet of the fourteenth-century. Among Iranians, taking augury (or fāl) from the divān (collected poems) of Hafez is commonplace, as they believe that Hafez's poetry will reveal one's destiny. Therefore, divān of Hafez can be found in almost every Iranian home. In this panel, we will read one of the poems from the divān of Hafez with its interpretation to discuss how Iranians consult Hafez's poetry when they encounter difficult situations.
About Saeedeh Shahnahpur
Saeedeh Shahnahpur is currently a researcher at Leiden University for Area Studies (LIAS). She specializes in the literature and culture of twentieth-century Iran. Her research primarily focuses on Persian literature, and the political, social, and cultural transformations through which cotemporary literary discourse developed. Her monograph, entitled Writing War in Contemporary Iran: The Case of Esmāʻil Fasih's Zemestān-e 62 is forthcoming with Peter Lang Publishing.