Lecture
"Italy Today" — Urgent Matters for Discussion: Economic Growth, Populism and Migrations
Joop Nijssen
Marten Lammertink
Davide Vampa
Jarl van der Ploeg
Date

Wednesday 16 October 2019

Time

Location

Room

Aula Magna (Room 3.46)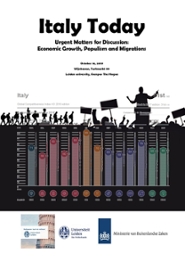 Introduction
Based on the 2018 Global Competitiveness Report, Italy scores extremely high in the domains of health and skills, large market size, infrastructure and a top-tier innovation capability. On the other hand its financial system and its public-sector administration continue to be a source of weakness. Although the country's GDP is growing at 1.5%, the fastest rate since the 2008's financial crisis, Italy remains the advanced economy that is growing the least [1].
These topics are omnipresent in the ongoing debates on the last government changes.The newly formed yellow-red coalition intends to work on these weaknesses in order to strengthen and centralize Italy's position in Europe. The new cabinet was sworn in recently, sealing an alliance between the populist Five Star Movement (M5S) and the centre-left Democratic Party (PD). It relegates Matteo Salvini's far-right League movement to the opposition. Di Maio, now Minister of Foreign Affairs, has some priorities on the table: Libya, China, migration management and relations with the new emerging economies. Will Italy, as a founding member of the European Union, be able to play an important role in addressing these truly European challenges, living up to its responsibilities?
Programme
Time
Activity
09:00
Registration and welcome coffee
09:00-10:00

Opening

Joop Nijssen, Deputy Director, Europe Department, Ministry of Foreign Affairs
Marten Lammertink, Senior beleidsmedewerker Frankrijk en Italië bij de Directie Europa
Carmen Van den Bergh, Head of Italian Studies, Leiden University

10:00-10:45

Panel: Italian politics

Davide Vampa (Aston University)
Presentation/ lecture "The upswing of populist parties in Italy"
Jarl Van der Ploeg (Journalist De Volkskrant)
Testimonial: "The life of a Dutch correspondent in Italy

"

10:45-11:30

Panel: Italy's socio-economic landscape

Eugenio Cusumano (Leiden University) and Stefano Bellucci (Leiden University)
A dialogue on migration management

Topics will include: Maritime Rescue, International Norm Contestation, Migration from Africa to Italy. From Italy to…

11:30-12:30

Round table

Panel discussion led by Jarl Van der Ploeg
Concluding remarks

12:30-13:30
Lunch
Concept and organization of "Italy today"
The convention on "Italy Today" is commissioned by the Dutch Ministry for Foreign affairs, and is organized by the Department of Italian Studies of Leiden University. The idea of this meeting is to provide an overview of the current political and socio-economic situation of Italy nowadays, starting from a set of urgent issues and canonical narratives which the country is associated with and bring them to the table for discussion. Is the brain drain amongst unemployed youngsters still going on? What about the everlasting differences between North and South? How is Italy contributing to Europe's migration management? Can we speak about the Rise (and failure) of populism? These extremely delicate issues will be framed and nuanced by professionals and specialists in the field. The convention will consist of a morning session with a series of four short presentations (15-20 minutes each), divided into two panels (on "politics" and on "migrations").
Speakers
The first speaker of the day, Davide Vampa (Aston University) expert in multi-level party politics and public policy, opens the panel on Italian politics with a short talk on The upswing of populist parties in Italy. Dutch correspondent at De Volkskrant, Jarl Van der Ploeg, has been following the latest developments in Italian politics very closely and will share with us his personal impressions.
A second panel focuses on the socio-economic situation of Italy today, with emphasis on what has been called the "European migration crisis". Eugenio Cusumano and Stefano Bellucci of the International Studies Programme at Leiden University will enter into a dialogue on European and Italian migration management. In conclusion, all experts and chairs will debate the key issues in a round table discussion challenging each other's views.
This event is free of charge, but please register for the event via the link below. For questions, please contact Carmen van den Bergh (c.van.den.bergh@hum.leidenuniv.nl).
Register now