Exhibition
Panji – Diponegoro – La Galigo Exhibition UNESCO Memory of the World
Date

Thursday 23 May 2019 - Sunday 1 September 2019

Location

Universiteitsbibliotheek
Witte Singel 27 27
2311 BG Leiden

Room

Tentoonstellingsruimte Universiteitsbibliotheek
Exhibition of Panji, Diponegoro and La Galigo manuscripts
The Panji manuscripts, Prince Diponegoro's autobiography, and the La Galigo epic poems are some of the most remarkable literary works from Southeast Asia and specifically from Indonesia. Their significance in the cultural and literary history of Southeast Asia was reaffirmed by their entry in the UNESCO Memory of the World Register. In the exhibition Memory of the World. Panji – Diponegoro – La Galigo at Leiden University Libraries (UBL), content, function and everyday use of these manuscripts and stories take center stage. The exhibition is open from 23 May until 1 September in the exhibition space at Leiden University Libraries.
Adventure
The Panji manuscripts tell of the many adventures of the Javanese Prince Panji in his quest to find and rescue his beloved Princess Candra Kirana. Javanese stories gained popularity throughout Southeast Asia during the 14th and 15th centuries, replacing much older Indian epics that had dominated the literary sphere until that time. The Panji Tales represent an important step in the development of Javanese literature, which rose to become the most popular literary genre in the region.
Resistance leader
The Diponegoro Chronicles were drawn up by resistance leader and Indonesian national symbol Prince Diponegoro himself, during his exile on North Sulawesi. The document laid the groundwork for a national narrative in Indonesia and is considered a quintessential piece of Indonesian literature.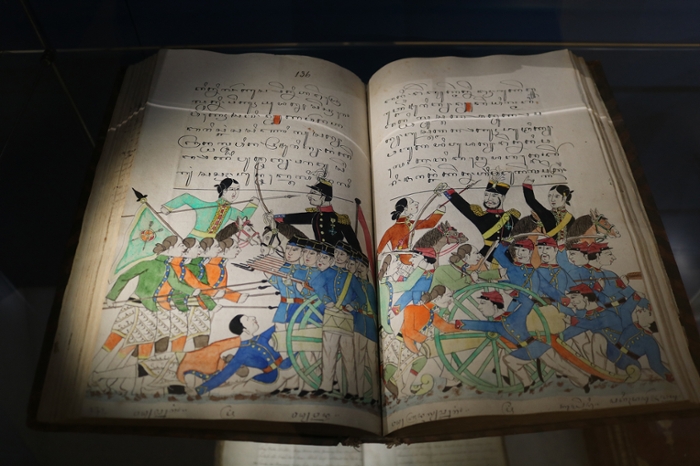 6.000 pages
The 6,000 pages of the La Galigo manuscript were written down in the 19th and 20th centuries, and are based on an ancient Buginese oral tradition. The mythical epic is written in a characteristic South-Sulawesi Buginese pentameter and is recognized as one of the most extensive mythical epics in the world. These works represent a long and rich tradition, still thriving in theatrical performances and manuscripts in a large number of languages, forms and scripts.
UNESCO Memory of the World
The cultural and societal importance of preserving the Panji, Diponegoro and La Galigo manuscripts has been recognized by UNESCO. The manuscripts have been entered into the Memory of the World Register as Documentary Heritage, a status the manuscripts in Leiden share with objects in libraries in Indonesia, Malasia and Cambodia. The UNESCO Memory of the World Register has been established with the goal to better preserve documentary and digital heritage worldwide for future generations. Leiden University Libraries keeps a large variety of Indonesian and Southeast Asian manuscripts in its collections, of which the aforementioned are considered the most important.