Lecture
Museum Talks 2019: Meet our LUCAS Kress Fellows!
Date

Thursday 7 November 2019

Time

Series

Location

Room

Vossius room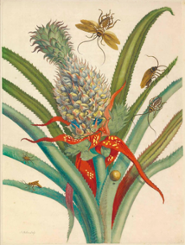 The Department of Art History cordially invites you to the talks of the Leiden Kress Fellows of 2019-2020
Catherine Powell
Influencing through networks and networking through influence Naturalia, botany, and art in late seventeenth-century Amsterdam
Peter Schenk's album amicorum, Maria Sibylla Merian's Metamorphosis Insectorum Surinamensium, Daniel Stopendaal's engravings of the estates along the river Vecht, and Caspar Commelin's Praeludia Botanica: these items from the Special Collections appear, at first glance, to be unrelated. Yet, upon close examination one can begin to delineate what was arguably Amsterdam's most influential network concerning naturalia, botany, and the related specialized art. A textual and visual analysis provides a window into a world where patrons, professional botanists and liefhebbers, artists, men and women—in this case Agnes Block, Maria Sibylla Merian, Peter Schenk, Daniel Stopendaal, and Caspar Commelin— worked together to perfect their knowledge, raise their status, and expand their sphere of influence.
Jun Nakamura
Printerly Pedagogy, or: Printing Drawing and Drawing Print
Printed drawing books, insofar as they use the medium of print to convey another media, necessarily draw attention to the appearance of prints, and to the linework and hatching with which forms are rendered. In doing so, they provide insights into period awareness of the limits and possibilities of printed marks and styles. In many examples, a number of different approaches to engraving are displayed side by side, calling attention to the effects of one syntax versus another. In one drawing book, artist portraits appear alongside images culled from a broad range of printed sources including natural history, mythology, and still life. Examining how these different subjects are rendered in various styles of engraving and etching could reveal how particular print idioms were associated with certain kinds of images. On the other hand, drawings made after prints (often but not always for pedagogical purposes) also tell us something about the reception of prints in the Dutch Golden Age. They show how different print styles were viewed and interpreted by artists, and looking at the specific artists whose prints were copied most often or most faithfully could reveal whose styles were thought to be most productive. Goltzius, Dürer, and Lucas van Leyden—three artists whose burin hands were viewed as both distinctive and canonical—were often copied line for line; but drawn copies after other printmakers rarely imitate the particular linework, and we thus get a sense that copyists saw through the syntax to the model that it rendered. By looking at works that exist at the intersections of print and drawing, I hope to understand the qualities of print aesthetics that seventeenth-century Dutch artists found most essential to the medium.