Lecture | Leiden Queer History Network
Disciplining Gender and (Homo)sexuality in Hungary
Date

Friday 8 March 2019

Time

Explanation

Free entry, no registration required. The talk is followed by a reception.

Location

Room

Room 0.11
Post-socialist societies have been characterized by dynamics of re-traditionalizing gender regimes and the mixing of late modern commodification with nationalism. In this context, the social acceptance of gays and lesbians is often portrayed as a desirable European (or Western) value by local LGBTQI+ communities, and as an undesirable "foreign import" by nationalists who try to evict homosexuals and homosexuality from "their" nation. We can also witness a recent spread of anti-gender mobilizations in different parts of Europe, triggered by concrete policy proposals such as the introduction of same-sex marriage in France, or as a preventive measure to avoid the implementation of such policies in the future, as was the case recently in Croatia and Romania.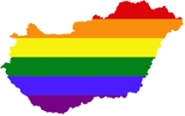 In this presentation, esteemed sociologist Judit Takács will share research findings that show that homophobia is not necessarily an inherent component of the mental construction of "Eastern-Europeanness"—and that homophobic attitudes can be unlearned in time, if this process can be supported with policy developments strengthening same-sex partnership and parenting rights. At the same time, her work reveals how the democratic decline characterizing the "illiberal democracy" of present-day Hungary can question the link between improvement of attitudes and the democratization process, often envisioned as a linear development.
As part of her talk, Takács will also be happy to answer questions about recent Hungarian developments, including the increasing threats to academic and scholarly freedom.
Judit Takács
Dr. Judit Takács is a Research Chair at the Institute of Sociology, Centre for Social Sciences, Hungarian Academy of Sciences, responsible for leading research teams and conducting independent research on the social history of homosexuality, social exclusion/inclusion of LGBTQI+ people, HIV/AIDS prevention as well as family practices, work-life balance issues and childlessness. She completed an M.A. in Social Sciences at the University of Amsterdam, and holds a Ph.D. in Sociology (Corvinus University of Budapest). Currently she works as a national expert on secondment at the ECDC in Stockholm.
Leiden Queer History Network
Dr. Takás's presentation kicks off series of lectures hosted by the Leiden Queer History Network, a new initiative co-convened by Dr. Andrew Shield (History) and Dr. Ann Marie Wilson (Leiden University College), and was made possible with financial support from Leiden Global Interactions.