Lecture
The Tawfiq Canaan Collection of Palestinian Amulets
Date

Thursday 11 October 2018

Time

Explanation

Free to visit, drinks after

Series

Location

Room

2.27
In the 1990's the Tawfiq Canaan Collection was opened to the public for the first time. The exhibition at Birzeit University aimed to disclose part of the Palestinian cultural heritage through the figure of the collector Dr. Canaan and his collecting enterprise, and through the items themselves. The Collection however, went through different stages before becoming representative of a national history, and the objects themselves had different functions. This lecture aims to show the different stages of the objects throughout the 20th century and trace key aspects in the formation process of this Collection.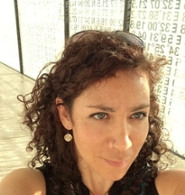 About Marcela García Probert
Marcela A. García Probert is an external PhD candidate at LIAS working on material culture and the formation of ethnographic collections in Palestine under the supervision of Petra Sijpesteijn and Salim Tamari. She has done extensive fieldwork in the Occupied Palestinian Territories. Marcela holds a MA in Middle Eastern Studies by El Colegio de Mexico and an undergraduate degree in Art History and Religious Studies.