Debate | Artistic Research forum
Platform for Artistic Research: ARC
Date

Monday 1 October 2018

Time

Location

Studio LOOS
De Constant Rebecqueplein 20B
2518 RA The Hague
ARC
Students, staff and alumni are welcome to join the third session of art_research_convergance (ARC), an outreach initiative of Leiden University for artistic research. ARC hosts exhibitions, installations, lectures and performances every first Monday of the month in the cultural hotspots in The Hague.
What's This?
Artistic research projects presented this evening have in common the fact that they critically re-assess the media of art, using these very media as both tool and method. Judith Ijken's artistic exploration of the history of portrait-making seeks to understand today's culture of liking, sharing and displaying of photographic portraits while Benjamin Schoonenberg considers film media in order to explicit the relation between time and the moving image. Sabin Garea, in turn, proposes a performative inquiry into purposelessness: what are we left with when the artwork is but the destruction of another artwork? Finally, Miguelángel Clerc rethinks the ontology of immersive sound environments through processes of decomposition. Looking inside out at their own practice they ask themselves: what is this? Respondent is Marijke Cobbenhagen, Designer of Dialogue at The Grey Space in the Middle.
Artists-researchers
Benjamin Schoonenberg - Embalming Time- Exhibition/Lecture
Sabin Garea – How I added Value to my Work- Performance/installation
Judith van IJken – Work in progress: Les cliches sont conservés/ Photographic portraits and the possible agency of the sitter- Lecture
Miguelángel Clerc– (De)Composing feedback – Performance/lecture
Season 2018
Season 2018 consists of four sessions where selected artist-researchers present their work. This is done through exhibitions, installations, lectures and performances. These two-hour sessions take place on the first Monday of each month in cultural hotspots in The Hague:
Studio Loos - 1 October - 19.00-21.00
De Nieuwe Regentes - 5 November - 19.00-21.00
Korzo Theater - 3 December - 19.00-21.00
Online session - date and time t.b.d.
The sessions have free admission.
For more information see www.art-research-convergence.org
Judith van Ijken
Judith van IJken graduated Cum Laude at the Photography department of the University of Arts Utrecht. Then was a participant at the Rijksakademie van Beeldende Kunsten. Van IJken exhibited her work in Amsterdam, The Hague but also in Shanghai, New York and Budapest. She combines her art practice with lectures and workshops at art schools such as AKV St Joost Master Programm,'s Hertogenbosch, Parsons School of Design in New York and a teaching position the Royal Academy in The Hague. Since 2017 Van IJken is PhD candidate Artistic Research at the PhDArts programme of Leiden University and Royal Academy of The Arts, The Haque.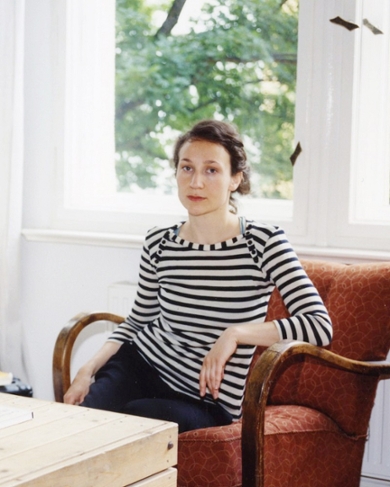 Sabin Gerea
Sabin Garea (b. 1980) is a Romanian visual artist living and working currently in The Hague, Netherlands. In 2004 he receives a BA of Fine Arts degree in Sculpture and in 2012 he receives a MA of Fine Arts in Photography and Time Based Media, both from The National University of Arts, Bucharest, Romania. He graduates from the program Master of Artistic Research in Kabk, The Hague, Netherlands in 2017.
His research is centered around notions as: work; value produced through working; knowledge, as value gained by working and value produced through craftsmanship. Sabin Garea makes objects, images, moving images and drawings blending all these in installations. He produces objects as an opportunity to look into the idea of value embedded in an object. In this regard, often his approach exploits an absurdist point of view, building works where a great amount of time or skill is invested, challenging the norms of efficiency governing the production of goods nowadays. Notions as, time, work effort in time, symbolic value of materials, craft knowledge and skill, are all present in his projects along with a practice methodology that makes use of various materials and techniques.
Sabin Garea

S. Garea: How I added value to my work
Miguelángel Clerc Parada
Miguelángel Clerc Parada (Santiago, Chile, 1979) is a composer, music performer and researcher. Clerc has composed music for soloists and ensembles in Europe, Asia, North and South America, some as the Nieuw Ensemble, Ensemble Klang, Ensemble Modelo62 (The Netherlands), CIMA, Ensemble Taller de Música Contemporánea (Chile), Schlagquartett Köln (Germany), among others. He has collaborated with the choreographers Karine Guizzo, Loic Perela, Pedro Goucha Gomes, Cora Bos-Kroese, Marina Mascarell, Astrid Boons and Heidi Vierthaler.
His music has received the Proms Prize 2006 in Paradiso (Amsterdam) for the piece Paradiso's Pendulums composed in collaboration with Grzegorz Marciniak. He was selected for the Gaudeamus Composition Competition 2008 for What About Woof? for five percussionists. In 2011 he was nominated for Premios Altazor (Chilean awards for the arts) for Eufotica for six percussionists.
Clerc holds a PhD in artistic research from Leiden University and Orpheus Institute in Ghent (docARTES doctoral program)
Benjamin Schoonenberg
After having completed his Bachelors in Film and Literary Studies at Leiden University, Benjamin Schoonenberg is now enrolled in both a Research Masters Literary studies at the University of Amsterdam and a master Film and Photographic Studies at Leiden University. In his film essay 'Embalming Time' he tries to unite academic thought about film and the praxis of film as an art form to ultimately search for the possibility of film as a mode of thinking.
Benjamin Schoonenberg

Benjamin Schoonenberg