Debate | StepTalks
Promoting Good Governance Across Borders: The Case of the European Union
Alina Mungiu-Pippidi (Hertie School of Governance)
Date

Tuesday 10 April 2018

Time

Series

Location

Room

Spanish Steps
What is the entitlement and the performance of the European Union into promoting good governance abroad? This presentation explores the question of whether human agency external to a country can and should influence the transition of a society from corruption as governance norm (where public resource distribution is systematically biased in favor of authority holders and those connected with them) to corruption as an exception (namely, to a state that is largely autonomous towards private interest and the allocation of public resources is based on ethical universalism, that is on treating everyone equally and fairly).
More specifically, the speaker asks if EU has succeeded in changing fundamental patterns of social allocation - form favoritism to merit- in old member states (Greece, Italy), new members states and accession countries (Romania, Bulgaria, Turkey), neighborhood countries (Ukraine, Moldova, Georgia, Tunisia) and aid receiver countries with strong good governance conditionality (Cotonou agreement countries).
Alina Mungiu-Pippidi
Alina Mungiu-Pippidi is Professor of Democracy Studies at the Hertie School of Governance in Berlin and chairwoman of the European Research Centre for Anti-Corruption and State-Building (ERCAS), where she managed the FP7 research project ANTICORRP, and currently the Horizon 2020 project DIGIWHIST. She is also President of the Romanian Academic Society (SAR) and founder of the social media watchdog platform "Clean Romania!" Mungiu-Pippidi has received the Harvard University Shorenstein Fellowship, an Open Society Institute Fellowship, a Fulbright Fellowship and the Jean Monnet Fellowship of the European University Institute. Her latest fields of academic interest revolve upon Anti-corruption policies.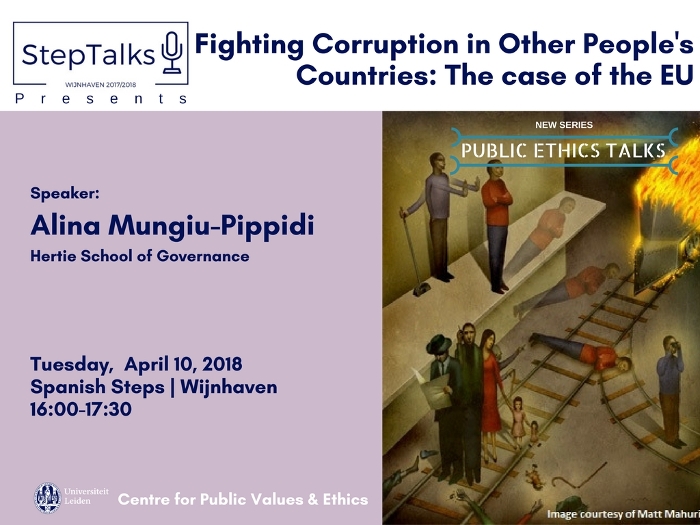 Public Ethics Talks
The Public Ethics Talks series will present cutting-edge work in ethics, moral philosophy, political theory and the normative theory of law, as applied to the morality of national and international public policy, government and governance matters, and public organizations and management practice.
The talks are open to students, academics, government professionals, civil servants, and interested members of the public.
Organizers: Toon Kerkhoff, Andrei Poama, Laurens van Apeldoorn, Ruth Prins.
Contact: Andrei Poama, a.poama@fgga.leidenuniv.nl