Masterclass
How can we study Islam in post-WWII Central Asia?
Date

Tuesday 17 April 2018

Time

Location

Room

010
There has been some debate in recent years concerning the nature of Muslim religiosity in Soviet Central Asia, especially in the post-WWII period. Some have posited that the dismantling of the system of Islamic education and the disappearance (either purported or actual) of the ulama in the 1930s led Central Asians to confine their experience of being Muslim within the cloistered space of the private sphere. According to this line of thought, Islamic culture capitulated to Soviet secularization, and Muslimness was thus reduced to a mere marker of national identity. Recently, meanwhile, there have been moves to complicate this narrative: some scholars, for instance, have emphasised the existence of an informal public sphere, in which forms of communal organization imbricated with forms of Islamic knowledge broadly conceived, while others have sought to place in sharper relief the complex nature of the institutionalization of Islam, a top-down policy promoted by the Soviet state to reach into what one may term an 'Islamic sphere.'
In this masterclass I will offer a different historical approach to the study of Muslim religiosity in Soviet Central Asia. I will examine the epistemological foundations of the narrative of 'rupture' which so far has informed studies on Soviet Islam; I shall show some of the ways in which we can more usefully interpret sources coming from Soviet archives, which range from the bureaucratic to the ethnographic; and, finally, I shall highlight some of the continuities in the transmission of 'Islamic knowledge' in the post-WWII period.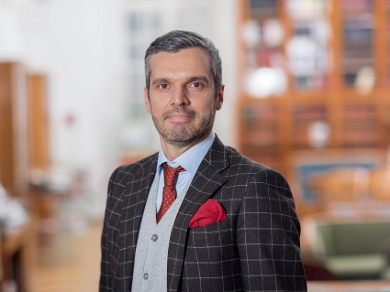 Paolo Sartori
Paolo Sartori is a Senior Fellow at the Institute of Iranian Studies of the Austrian Academy of Sciences, Vienna. He holds a M.A. in Oriental Studies ('Ca' Foscari' University of Venice) and a Ph.D. in Islamic Studies ('la Sapienza' University of Rome). A recipient of numerous grants and awards, Dr Sartori was Volkswagen-Stiftung Fellow at the Martin Luther University of Halle-Wittenberg from 2007 to 2011. In 2013 he was awarded the START prize by the Austrian Science Fund for his six-year research project "Seeing Like an Archive: Documents and Forms of Governance in Islamic Central Asia (18th-19th Centuries). He currently serves as the Editor-in-Chief of the Journal of the Economic and Social History of the Orient.
Reading list
All readings are compulsory. Please register to receive them.
1. Alexandre Bennigsen and Enders Wimbush, Mystics and Commissars: Sufism in the Soviet Union, (London: Hurst, 1985): Introduction; Chapter 1 (31-45); Chapter 5
2. Adeeb Khalid, Islam After Communism: Religion and Politics in Central Asia (Berkeley: University of California Press, 2007), Chapters 3 and 4
3. Michael Kemper, Studying Islam in the Soviet Union (Amsterdam: Vossiuspers UvA, 2009)
4. Sergei Abashin, "Prayer for Rain: Practising Being Soviet and Muslim," Journal of Islamic Studies 25/2 (2014): 178-200
5. Eren Tasar, Soviet and Muslim: The Institutionalization of Islam in Central Asia (Oxford: OUP, 2017): Introduction and Chapter 1
Registration
The masterclass is organized by the Central Asia Initiative at Leiden University and is open only to MA, MA research and PhD students.
To register for the masterclass, please contact Dr Elena Paskaleva at: e.g.paskaleva@hum.leidenuniv.nl before 12 April 2018.