Festival | University ceremony
Dies natalis
Date

Thursday 8 February 2018

Time

Explanation

The programme will commence at 15:00 hrs. precisely. You are kindly requested to be seated before 14:50 hrs.

Location

Pieterskerk
Pieterskerkhof 1A
2311 SP Leiden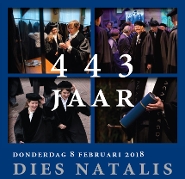 Dies lectures
Professor Bernet Elzinga, Professor of Stress-related Psychopathology of the Faculty of Social and Behavioural Sciences. Her lecture will be entitled Back to the roots: childhood as a source of vulnerability and resilience.
Professor Thomas Hankemeier, Professor of Analytical Biosciences of the Faculty of Science. His lecture will be entitled Metabolomics: de weg naar gezond oud worden.
Honorary Doctorate
During the ceremony, an Honorary Doctorate will be conferred on Professor Adrienne Héritier, Professor Emerita Department of Political and Social Science and Robert Schuman Centre for Advanced Studies, European University Institute, Florence, for her outstanding work in the field of multilevel governance, decision-making and institutional theory at the European level. The Honorary Supervisor is Professor Bernard Steunenberg, Professor in Public Administration and Ad Personam Jean Monnet Chair in European Politics, Faculty of Governance and Global Affairs. The Dean of the Faculty is Professor Kutsal Yesilkagit.
Musical interludes
The musical interludes will be performed by performed by students of the Practicum Musicae programme of the Academy of Creative and Performing Arts (ACPA).
Closing of the ceremony
Closing remarks by Professor Carel Stolker, Rector Magnificus and President of the Executive Board.
During the reception following the official ceremony, there will be the opportunity to congratulate the members of the Executive Board of the University, the Dies lecturers, the Honorary Doctor and his Supervisor, the Deans of the Faculties, and their partners. The reception will start at approximately 16:30 hrs.
Dies Natalis in The Hague
You can also follow the Dies Natalis in The Hague. The livestream of the ceremony will be shown on a large screen in Wijnhaven, close to the Spanish Steps, and on the video wall in Schouwburgstraat.